You'll notice today and going forward as you either visit EarthTechling for the first time or 40th the site sports a streamlined new look and feel. We've pushed out this refresh to make it more easy for you to navigate and read stories across our topic channels covering Green Buildings, Transportation, Energy and Living. The goal is to provide you, our loyal readers, with one of the best and most visually appealing consumer green technology news websites out there.
While we are still working out a few bugs, and already planning for a larger overhaul which will be even more stunning than what you see before you now, you will take note with the new design we've more easily called out where you can find EarthTechling's social media channels. We've also made it easier for you to share stories from our site on some of these social media outlets.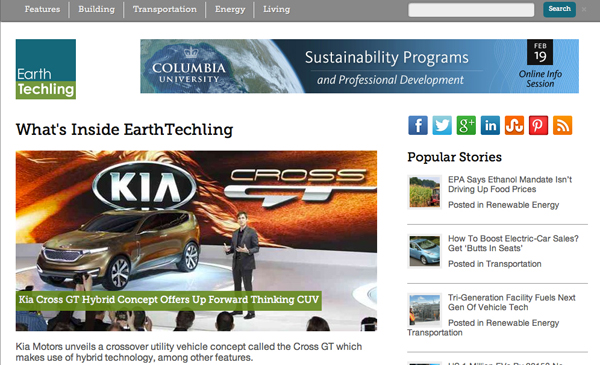 I thought I'd also take a moment to provide you a little update on where EarthTechling is heading. Since founding the company in mid-2009, it has always been my vision to try and bring to our readers a consumer perspective on green tech. We've worked hard over the years as a start up to do this, adjusting our model and expectations as we've gone along to not only provide you the best coverage of this topic out there, but also do it in a way that is informative and entertaining as well.
Our core team of writers, each very knowledgeable in their topic channels, have worked extremely hard to make our content top notch. That work has been noted time and time again, whether it is larger media outlets like the New York Times, Huffington Post and National Geographic that either distribute some of our stories to their readers or link back to us, or entities like the U.S. Department of Energy , Ford and GM which approach us with unique interview opportunities or social media partnerships to help spread the word on the benefits of clean technology.
As we move further forward into 2013, we will continue to grow not only our larger media partnerships, but also our smaller ones. We've become a clearinghouse of information and education on green tech in part because of the wide number of topic specific media outlets and large non-profits like Sierra Club and Natural Resources Defense Council which let us distribute their great content to our readers.
Behind the scenes, we've also been building a who's who advisory board of experts in the digital media and sustainability fields to help guide us to the next levels of providing those who come to EarthTechling an ever better experience. Also on board with us is our fine new vice president of strategic operations and the great folks from CouldBe Studios handling our design and IT needs. All of these items I've talked about here wouldn't be possible without you, our loyal readers old and new, and for that I thank you!