Whereas electric cars are slowly being considered more and more for front line law enforcement duties, electric motorcycles have been in use for a bit longer in places like London via special edition rides from the likes of BRD Motorcycles and Zero Motorcycles. The latter, which has already been at this with police agencies for the last year or so, recently announced its 2013 line up of motorcycles for this non-leisure focus.
The 2013 Police and Security line up includes tuned editions of Zero's S and DS models. They are described, according to their manufacturer,  as being 93 percent more powerful, generating 62 percent more torque and yielding 10 percent greater city range as compared against the equivalent 2012 models.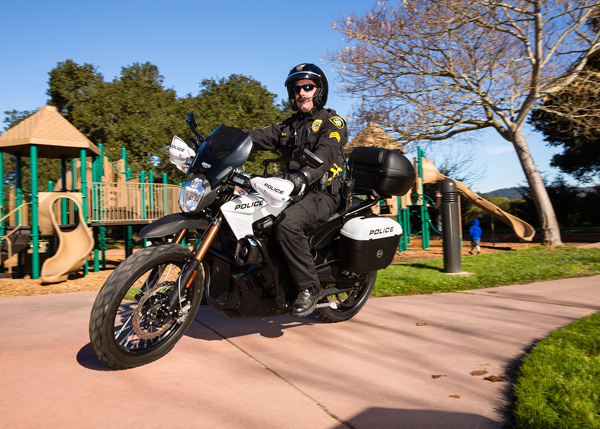 The dual sport DS configuration is reportedly able to travel 121 miles (city), or 74 miles (55 mph highway), on a single charge. The street configuration, meanwhile, is able to travel 132 miles (city), or 83 miles (55 mph highway) on a single charge. Both motorcycles, using a new optional CHAdeMO charging accessory,  can be re-charged to 95 percent at a charging station in an hour or less while doughnuts and coffee are being consumed next door.
Zero, in developing its police and security specific motorcycles, said it has seen "a significant increase in demand for street and dual sport police motorcycles on a global level with many Asian, European and South American countries taking interest. North America continues to be in high demand as well." Besides London, Gizmag points out, the DS has popped up in a number of law enforcement motor pools near San Francisco, California.
The company has also provided its DS model for corporate security details as well but, for whatever reason, these customer identities remain anonymous.
Features specific to these electric motorcycles include larger tires, a programmable siren system with PA/microphone, 4 way emergency flasher system, a detachable wind screen and a telescoping pole light with blue LED. Lacking from these is a non-lethal way to disperse crowds, but considering that's probably not necessary in most cases, it is one feature that can be overlooked.