It was probably inevitable, given the intense media coverage over the last year regarding the "additive manufacturing" process, better known as 3D printing. We've seen stories about printing shoes, cars, electronics, stem cells, human organs, and dozens of other objects with today's advanced computer-assisted design (CAD) technology.
Now, we're seeing applications that can potentially "print" an entire house, such as the fanciful Landscape House, designed by Dutch architect Janjaap Ruijssenaars, using a Möbius strip as a model. Taken to a more extreme degree, the technology may even be used to create a permanently habitable Moon base using the powdery lunar soil as the main building material.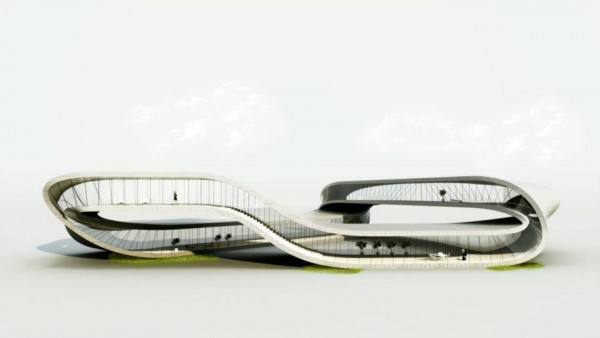 The driving force behind both of these "out there" projects is Enrico Dini, inventor of the D-Shape Printer, created by Monolite UK. This behemoth machine can produce room-sized shapes of building materials using a special binder agent that fuses sand into a hard, marble-like substance.
The machine takes a 3D CAD design of an object and "prints" the material, layer by layer, in an exact and much-enlarged replica from the ground up. Each object printed requires about 24 hours to solidify and cure, creating a finished product that is within a design tolerance of 5 to 10 millimeters. Because the process is additive, using only the materials that are needed, there is very little waste in the system.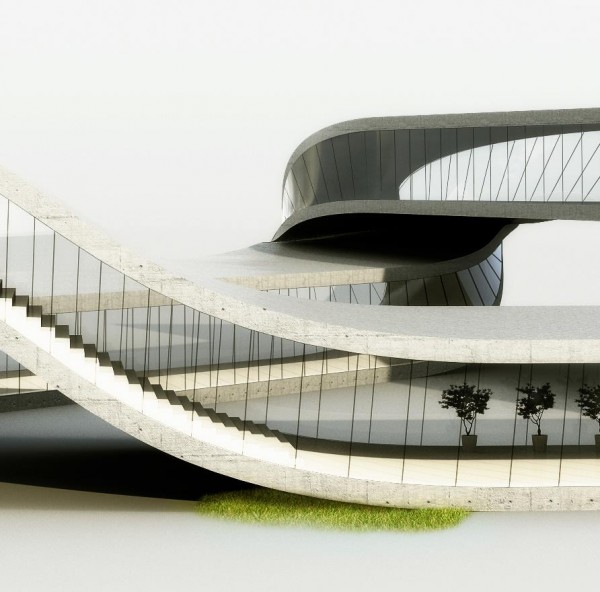 Ruijssenaars, principal architect for Universal Architecture, plans to use the D-Shape device to produce the extruded curved walls and straight ceilings of his endlessly looping triangular structure in hollow sections measuring 20 by 30 feet, which will be filled with fiber-reinforced concrete to add strength. The Landscape House, designed for the biennial Europan design competition, is expected to be completed in Ireland in about 18 months at a cost of about $6 million.
The D-Shape machine is capable of extruding nearly 27,000 square feet of this building material each year, or the equivalent of "twelve two-floor buildings," according to the Monolite site. The cost to build a similar structure is cheaper using Portland cement, according to the Co.Design site, but Monolite claims that the "realization costs" using the D-Shape are 30 to 50 percent lower than manual methods, since there is much less human labor needed and, therefore, a reduced safety risk.
The true savings of the device, however, would be much more obvious for the construction of a lunar base, which gives new meaning to the "build local" movement. Rather than spend billions of dollars to ship prefab terrestrial building materials 239,000 miles across inner space to the Moon, the portable D-Shape Printer could be sent at a fraction of the cost and bind the abundant lunar rock dust instead of sand to build walls.
The European Space Agency (ESA) is currently working with architecture firm Foster + Partners to design Moon colony structures using Dini's D-Shape technology. Researchers, ESA says, have been experimenting with using fine-grained volcanic ash (similar to lunar soil) to build prototype walls and support structures in Earth-bound lab tests, and also determining whether the process will be viable in the Moon's vacuum.
So, will we start seeing 3D-printed lunar cities spring up on the Sea of Tranquility in our lifetimes? Well, as the Rocket Man famously said: "I think it's gonna be a long, long time…"