Two weeks after Congress cobbled together a fiscal cliff deal that included an extended production tax credit for wind, the industry says it is switching from pause to play, but analysts don't seem to think anything approaching fast-forward is likely.
The American Wind Energy Association pointed to projects, project developers and component manufacturers around the country who have publicly asserted that projects slowed by last year's uncertainty about the fate of the PTC were now unshackled.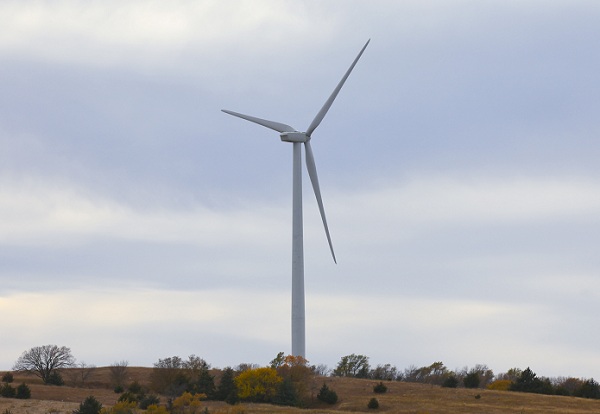 The group cited First Wind CEO Paul Gaynor's statement that the company was expand its portfolio by at least 50 percent this year, as well as to two projects in Nebraska, another in Minnesota and yet another in North Dakota that were boosted by the PTC extension.
"The wind industry has been reinvigorated by this much-needed signal from Congressional leaders," Rob Gramlich, interim CEO of the AWEA, said in a statement. "Billions of dollars of investment sat idled by uncertainty that now can flow into new wind projects and our manufacturing sector."
There's no disputing that the PTC extension – making projects under construction before the end of the year eligible for the 10-year, 2.2-cents/kilowatt-hour tax credit – ensures 2013 will be a better year than it otherwise would have been. Most forecasters saw the industry coming to a virtual standstill this year.
That said, fears that the PTC would vanish really warped the project development timeline for companies, creating something of a fuzzy picture.
Companies "really slowed or in many cases stopped their longer-term wind project development pipeline to focus on near-term projects," Christopher Blansett, a senior equity analyst for alternative energy at J.P. Morgan Chase, said in a Wall Street Transcript interview. "They now have to step back in and figure out what projects they can get done by the end of 2013 that maybe they normally wouldn't have moved forward with."
As a result, Blansett suggested, a fairly slow first half of the year could result, although "we are probably going to see demand pick up meaningfully in the second half of the year."
The final numbers aren't in yet, but the industry was on course to install more than 12,000 megawatts of new capacity in 2012, a record. The government's Energy Information Administration was forecasting around 1.5 MW of new installations in 2013 without a PTC extension. With it, most analysts seem to think the figure could double, more or less.  That would still be the puniest total since 2006, which saw just 2,428 MW installed.