To some folks in the soggy Pacific Northwest — where moss grows on virtually anything that stays put for a few days — a project being researched by building scientists in sun-drenched Spain may seem like madness: Not eradicating but actually encouraging biological growth on the surface of concrete walls.
At Barcelona's Universitat Politècnica de Catalunya (UPC), however, walls with a nice coat of lichens, moss, fungi and algae are seen as a great way to reduce CO2 buildup in the atmosphere, absorb solar heat, provide insulation and reduce the carbon footprint of urban structures. Recently, researchers at UPC's Structural Technology Group have found a way to mix in a few biophilic additives to encourage growth of these plant and fungal systems directly on the surface, without the need for a bulky support structure.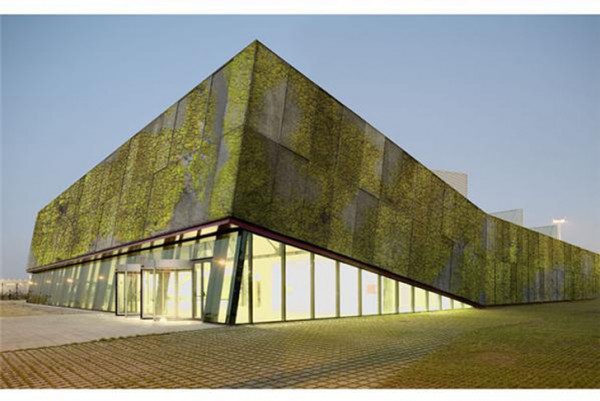 According to UPC, the concrete green wall panels they have developed would need very little maintenance once the biological layer becomes established and would not significantly add to the weight load on the vertical walls. The concrete in the panels is basically standard carbonated concrete (Portland cement) mixed with quick-setting magnesium phosphate cement, giving it a slightly adjusted pH balance. A few other modifications to enhance porosity and roughness help give biological organisms a better chance to anchor themselves to the surface.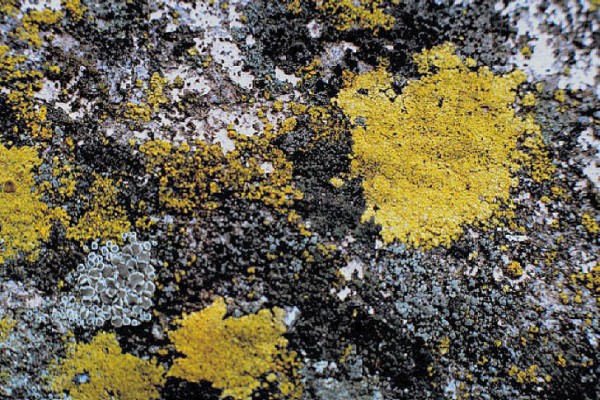 The final product is a four-layer panel: a structural layer, a waterproofing layer to protect the interiors from leaks, a biological layer that consumes rainwater, and a semi-permeable coating that draws in and retains rainwater.
The biological layer "acts as an internal microstructure, aiding retention and expelling moisture," say UPC scientists. "Since it has the capacity to capture and store rainwater, this layer facilitates the development of biological organisms."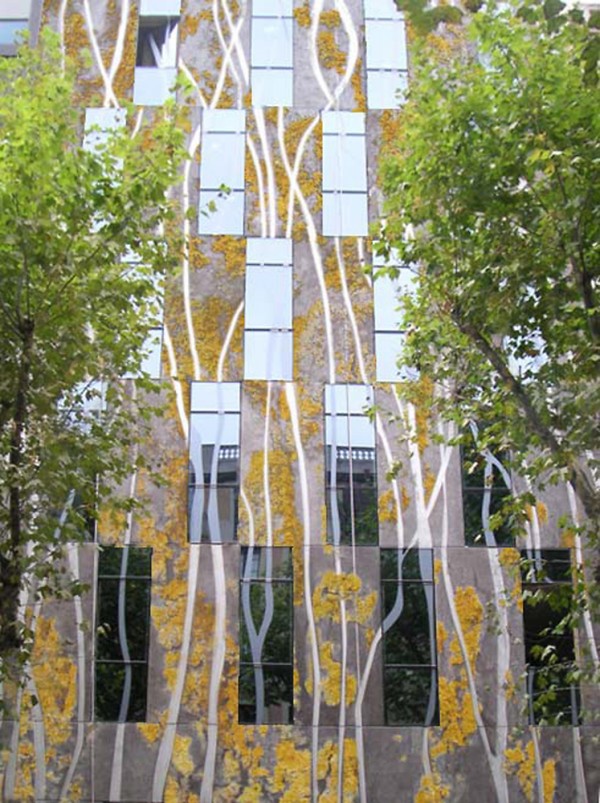 Besides the scientific advancements of the panels, there is an aesthetic advantage as well. The technology "can be used to decorate the façade of buildings or the surface of constructions with different finishes and shades of color," UPC added. "It has been designed for the colonization of certain areas with a variety of colors, without the need to cover an entire surface. The idea is to create a patina in the form of a biological covering or a 'living' painting."
So far, these living paintings have yet to be added to an actual building, but the panels have sparked some interest from Catalan design firm Escofet 1886 S.A. While UPC looks for ways to speed up the growth of the biological life in the panels and research how they may perform in colder climates, Escofet says it is considering ways to commercialize the technology for its concrete designs.