Here's a challenge: Take a house built in 1918, bring it up to modern, green building standards by using low-carbon-footprint materials, and cut its energy demand by 90 percent without altering the original volume or historic façade. Oh, and get it done on a short time frame with a very limited budget.
The solution to this task is prefabricated dry construction, which was used recently in an extensive rehabilitation of a nearly century-old row house in Barcelona, Spain, completed by Calderon-Folch-Sarsanedas (CFS) Arquitectes.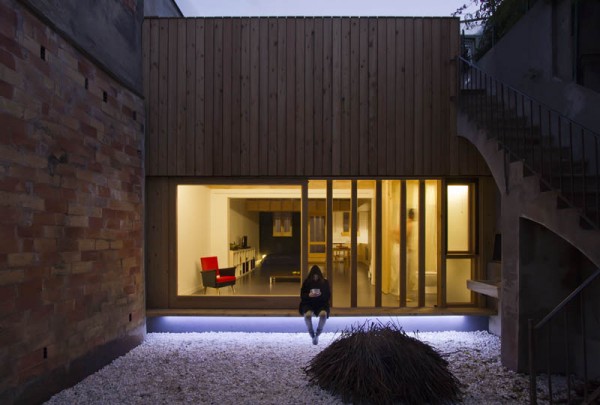 The resulting MZ House, which used to have an energy demand of 171 kWh per square meter, now operates comfortably at just 17 kWh per square meter, based mostly on passive house design features.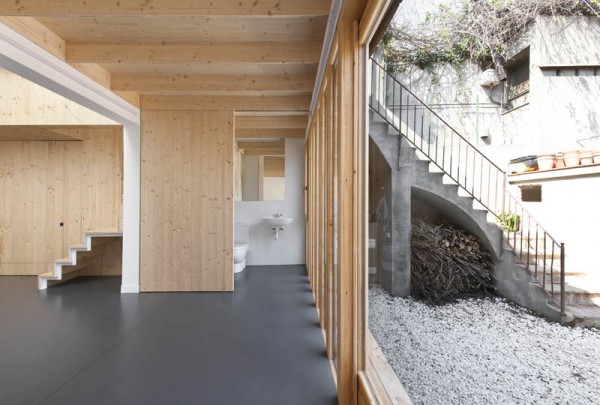 The design, which was lauded by the ISOVER Energy Efficiency Awards and Ajac Young Catalan Architects Awards in 2012, makes prominent use of natural wood and oriented strand board (OSB) panels for the exterior walls. For the interiors, heat-treated pine and larch wood was left exposed and unpainted for a natural look. The floors are made of linoleum and three-ply shuttering panels.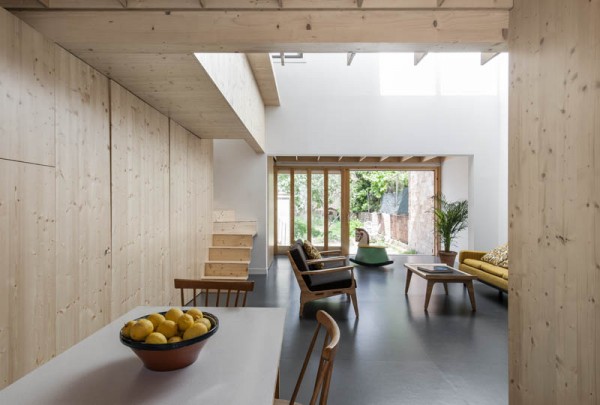 Much of the energy savings in the two-story house comes from passive techniques. To draw in as much ventilation and natural daylight as possible on the narrow property, hemmed in by neighboring structures on two sides, CFS added a skylight in the roof and an open floor plan to allow light to penetrate to the ground floor. Floor-to-ceiling windows were also installed for a wall that opens to a sunlit courtyard. On the exterior walls, natural sheep wool was applied for added insulation.
By prefabricating most of the wooden sections and other upgrades, CFS was able to lessen the impact of the build-out on the environment and greatly speed up the construction process. The workers were able to retrofit the entire house in a remarkable four months.