There are lots of differences between printed reading material and the tablets and phones on which most of us consume media these days. One often overlooked difference is, well, flexibility. Tablets must be handled like the Holy Grail, while magazines and books can be shoved into a briefcase or rolled up in a backpack without a care.
The PaperTab, a recent showstopper at last week's Consumer Electronics Show, attempts to revolutionize the traditional tablet by incorporating the dynamics of an ordinary sheet of paper. The result is flexible e-paper touchscreen with an efficient operating system that allows apps to interact with each other.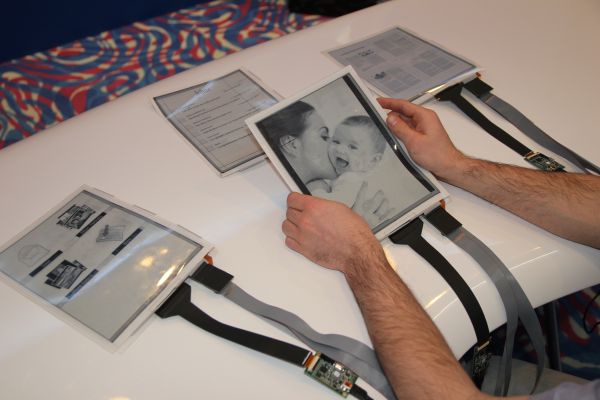 The PaperTab, developed at Queen's University in collaboration with Plastic Logic and Intel Labs, looks and feels just like a sheet of paper. However, it is fully interactive with a flexible, high-resolution 10.7" plastic display, a flexible touchscreen, and a second generation Intel® CoreTM i5 Processor. Instead of using several apps or windows on a single display, users have ten or more interactive displays or "PaperTabs": one per app in use. Unlike traditional tablets, PaperTabs keep track of their location relative to each other, and to the user, providing a seamless experience across all apps, as if they were physical computer windows.
"Using several PaperTabs makes it much easier to work with multiple documents," says Roel Vertegaal, Director of Queen's University's Human Media Lab. "Within five to ten years, most computers, from ultra-notebooks to tablets, will look and feel just like these sheets of printed color paper."
PaperTabs are lightweight and robust, so they can easily be tossed around on a desk while providing a magazine-like reading experience. By bending one side of the display, users can also navigate through pages like a magazine, without needing to press a button.
Yes, it's still made of plastic, but that's a substance that's becoming more environmentally-friendly every day. Also, the more robust and flexible a gadget is, the less chance we have to break or damage it, greatly increasing time between purchase and recycling. As of yet, however, there's no word on when it might reach the open market.