Green builders have had an ambivalent relationship with the essential shipping industry commodity, the wooden pallet. Like intermodal containers, pallets are so ubiquitous in the modern landscape that the temptation is strong to make use of them in ever-more creative ways. Questions remain, however, about how toxic these industrial castoffs may be and whether the effort that goes into manipulating them into habitable structures may end up doing more harm than good.
One of the more interesting and artistic examples of the adaptive reuse of pallets comes from Italy, where architecture firm Avatar Architettura created a beautiful temporary pavilion for the German Institute of Culture, located in Florence.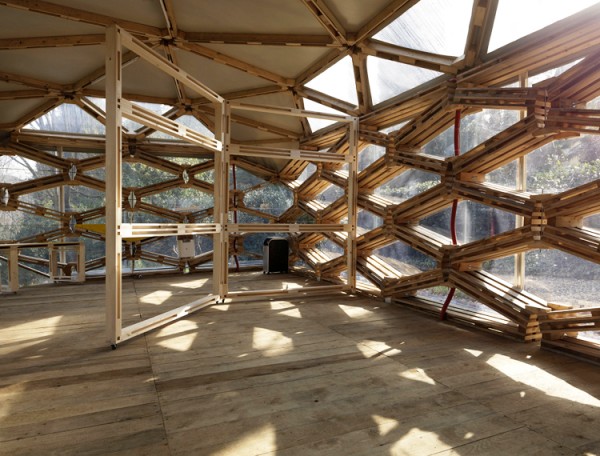 Constructed to host various arts shows and performances, the pavilion retains the basic edge-on modular look of the pallets which are cut up into varying widths. The pallet slices are fastened together in narrow diamond-shaped patterns using custom-made metal joints, providing striking visual patterns and shadows for visitors.
Sadly, the entire pavilion structure is covered in environmentally unfriendly PVC plastic to keep out the rain, but the entire structure is easily collapsible and can be reused indefinitely. Construction of the 100-square-foot space takes just four days to build, according to the Avatar site.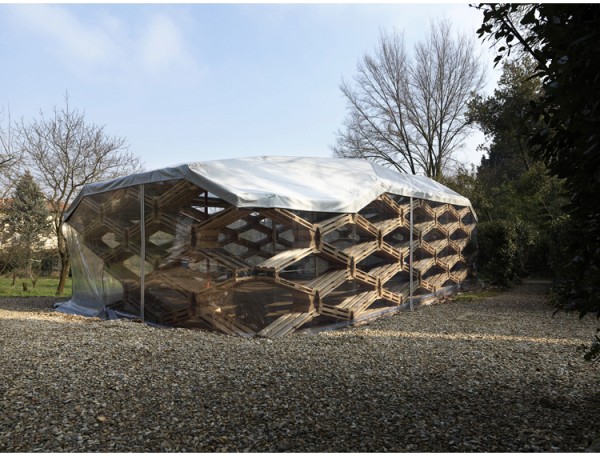 As Lloyd Alter pointed out in a recent Treehugger.com post, however, not all pallets are created equal. Many of the pallets used in the food transportation industry, for instance, are likely to carry dangerous strains of bacteria and other nasty pathogens.
Alter cited a report from the National Consumers League, which analyzed 70 wood pallets and 70 plastic pallets in Texas and Florida for contamination in 2010. An independent testing lab found that 10 percent of the wooden pallets contained traces of E. coli bacteria and nearly 3 percent contained Listeria. Humans infected with Listeria suffer a 20 to 30 percent mortality rate.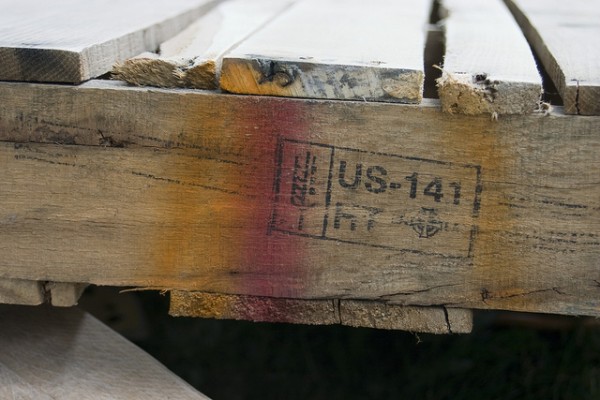 Treehugger also cited the advice of builder and pallet recycler Lori Danielle: "If a pallet is made of wood, there's concern that it may harbor bugs. In order to prevent this, pallets are either treated with chemicals or heat treated," she writes on her blog. "Both of these methods get the job done and are indicated on the side of the pallet with the IPPC logo. Chemical-treated pallets would have 'MB' stamped on it, while heat-treated pallets are stamped with 'HT.'"
For those looking for safe sources of wooden pallets for use in do-it-yourself projects, here's a list from the LifeHacker site.