President Obama's second inaugural address, while emphasizing unity, also constituted a broad and sturdy defense of progressive ideals – including action on climate change and promotion of renewable energy development.
The president in his first term largely delinked climate change and renewable energy, rarely mentioning the threat of rising temperatures and oceans (at least until Hurricane Sandy made a hash of significant swaths of Atlantic Coast). Renewable energy, meanwhile, got plenty of attention – the U.S. nearly doubled its generation of energy from wind, solar and geothermal during Obama Part I – but it was almost always spoken of in the context of securing "energy security" or creating jobs.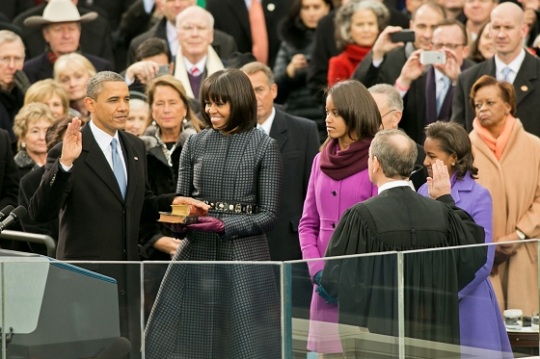 In his address before hundreds of thousands gathered at the Capitol on Monday, however, the president tied the two concepts together, with the embrace of renewable energy flowing directly from the necessity to take on climate change. And he said the United States must step up and lead:
We will respond to the threat of climate change, knowing that the failure to do so would betray our children and future generations. Some may still deny the overwhelming judgment of science, but none can avoid the devastating impact of raging fires, and crippling drought, and more powerful storms. The path towards sustainable energy sources will be long and sometimes difficult. But America cannot resist this transition; we must lead it. We cannot cede to other nations the technology that will power new jobs and new industries – we must claim its promise. That's how we will maintain our economic vitality and our national treasure – our forests and waterways; our croplands and snowcapped peaks. That is how we will preserve our planet, commanded to our care by God. That's what will lend meaning to the creed our fathers once declared.
Not surprisingly, climate change and renewable energy advocates found favor with the president's remarks.
"#Solar is ready! 'America cannot resist [the clean energy] transition; we must lead it.' –Pres. Obama #inauguration" tweeted the Solar Energy Industries Association.
"Powerful words on #climate change by @barackobama in the Inaugural address – I am fired up and ready to go!" tweeted Mary Anne Hitt, director of the Sierra Club's Beyond Coal campaign.
And the Natural Resources Defense Council quickly had a press release up on its website. "Vowing to confront the number-one environmental threat facing the nation, President Obama pledged in his historic second inaugural address Monday to confront climate change," the group enthused.