A bank that actually gives back more than it takes in? Impossible, you might say. But a branch of PNC Bank that opened last week in Ft. Lauderdale, Fla., expects to use half of the energy needed by other conventional branches to meet local building codes and also to produce more energy than it requires.
Fairly bristling with green building features, PNC's 4,900-square-foot net-zero energy bank branch plans to exceed the requirements of the LEED Platinum certification in terms of water use reduction, solar energy power generation, HVAC efficiency, low-VOC building materials and stormwater management.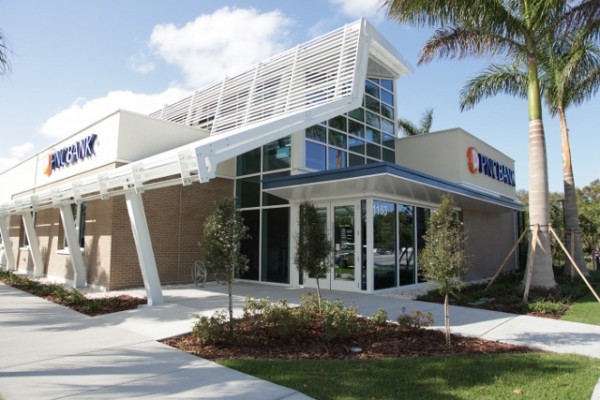 Much of the branch's power will come from the 211 photovoltaic panels on the roof, which will convert the sun's rays to a direct-current (DC) ceiling grid system that powers the efficient LED interior lighting. By using DC, the system avoids the typical energy loss that normally occurs when DC is converted to the alternating current (AC) that runs through most conventional electric systems.
Now just in its first week of operation, the Ft. Lauderdale branch should use an estimated at 70,000 kilowatt-hours per year (kWh/yr) while the branch is producing approximately 84,000 kWh/yr. The 14,000 kWh/yr difference, PNC says, is equivalent to the amount of energy needed to power a 1,600-square-foot home for one year.
To cut down on the use of this solar-powered electricity, the branch also uses photo-sensors that control dimmable LED light fixtures as natural sunlight increases and occupancy sensors that prompt lights and computer monitors to shut off when not in use.  A canopy covers the building's southern side to reflect sun during the hottest part of the day while also allowing natural daylight to enter.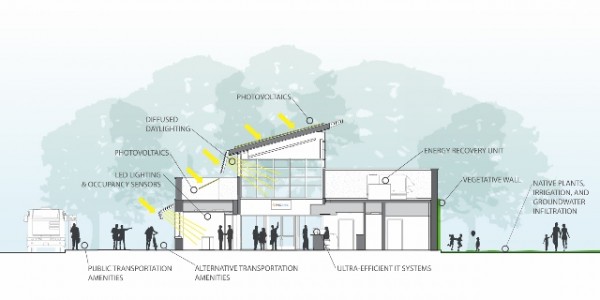 PNC used local and recycled resources for building structure and wall materials, as well as interior finishes.  Products made with more than 80 percent recycled material were also selected for all ceiling tiles and walls. Through highly-efficient water fixtures, the branch consumes 40 percent less water for interior use than a conventional building.
Outside the new building, landscape design is comprised of native Florida species, minimizing irrigation needs.  Natural drainage channels lined with plants filter out pollutants and permit ground absorption, diverting about 90 percent of the site's stormwater from municipal sewer systems. One wall is also partially dedicated of a vertical garden to help cool the building and provide a welcoming entrance.
Employees in the branch continue the waste reduction savings by instituting an recycling program for all paper, cardboard, plastic, glass and metal containers. During the branch's building phase, 98 percent of construction waste generated was diverted from landfills.
PNC now has 116 newly constructed, LEED-certified buildings, which the company says is more than any other company. To develop the net-zero energy branch, PNC collaborated with the dsign architect Gensler design firm to take part in the U.S. Department of Energy's Net-Zero Energy Commercial Building Initiative.