It is now just over three years since the devastating 7.0-magnitude earthquake shook Port-au-Prince, Haiti, to its core on Jan. 12, 2010, and the shock of the damage statistics hasn't subsided: More than 222,000 dead, 2.3 million people displaced and 188,000 homes damaged or destroyed, according to the Office of the Special Envoy for Haiti. After a total of $6.43 billion in disbursed disaster aid, hundreds of thousands of people are still homeless as rebuilding efforts have stagnated.
A group of artists, architects and engineers called Konbit Shelter are trying to speed the process along and help prevent future disasters with an inventive building technique called "superadobe," which uses bagged earthen materials and cement as the chief structural materials. The goal of the group's sustainable building project is to rebuild permanent communities using low-cost techniques, readily available materials and creative designs that can better survive fires, hurricanes, floods and future seismic events.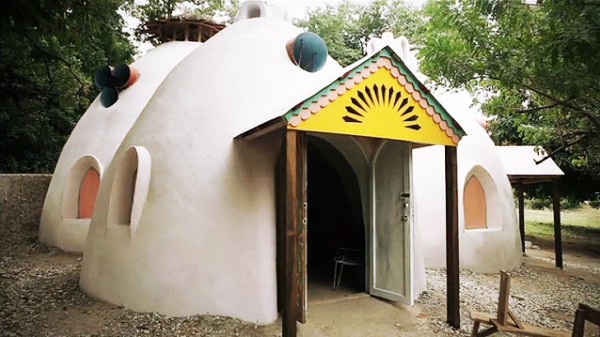 Using techniques developed by Iranian architect Nader Khalili and continued by California Institute of Earth Art and Architecture (Cal-Earth), the superadobe walls begin with a simple, circular wooden frame and are built out of horizontal layers of long biodegradable earth bags filled with either dirt or a mixture of sand, soil, clay and straw. These layers are then covered in a smooth coating of cement. The circular, domed shape of the structures adds strength and helps water drain away from the buildings, Konbit says.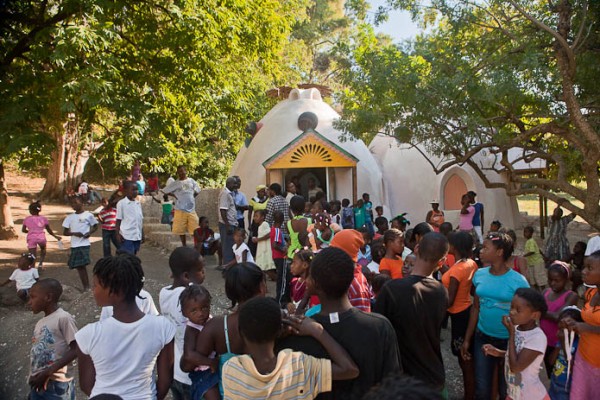 The resulting walls, which are 90 percent earth and 10 percent cement, can be constructed mostly by hand and are stronger than standard cinder block and concrete-slab structures. "This system of building provides an easily replicable model, which can be built without using specialized construction machinery and can be participated in by the men and women of any community," according to the Konbit website. "The technique also uses little to no wood, an invaluable asset in timber-depleted Haiti."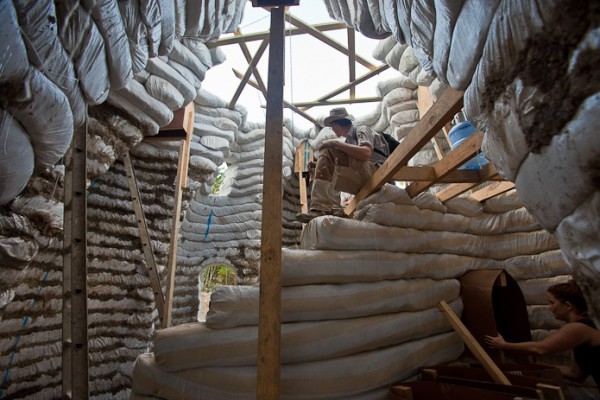 So far, Konbit (which means "communal effort" in Creole) has partnered with the Mango Grower's Association of Leogane, in the village of Bigones, Haiti, to create a multiroom superadobe community center, which opened in the summer of 2010. Later that December, they built a demonstration single-family house using the same techniques.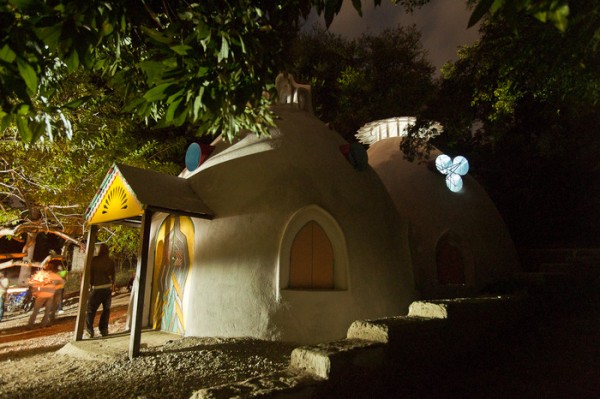 In early January of this year, Konbit raised more than $31,000 through a Kickstarter campaign to begin construction on a third superadobe home. For the long term, Konbit wants to set up a building initiative that will bring together one artist, one architect and one family to collaborate on constructing a new home.
"By sourcing all materials within Haiti, and raising money to hire a crew of builders from the community, we are able to bring the kind of assistance that promotes the local economy, creates jobs and builds valuable skill sets," say the Konbit designers.