Love the natural look but don't want to settle for outdated computer peripherals? Impecca, maker of some of the first bamboo accessories on the market, plans to launch a new custom carved bamboo keyboard that features long-range Bluetooth technology (up to 33 feet!) in addition to an ergonomic design.
Although it may look rustic and natural, this eco-friendly keyboard offers a variety of features that make it the perfect addition to any personal or professional collection of high tech gear.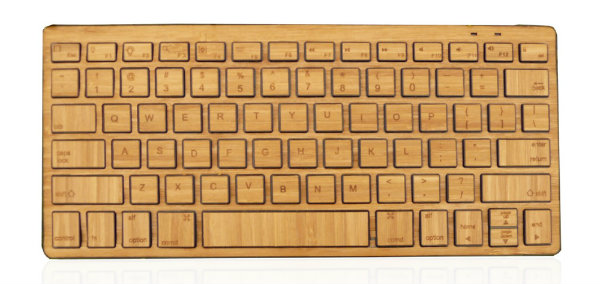 We've featured bamboo computer accessories in the past, few included Bluetooth technology. Since the technology world is moving toward total wireless-ness, it seems weird to move backwards just because a product is more eco-friendly. The Impecca product does not force such a compromise.
In addition to being made from a renewable, completely biodegradable material keyboard features a fixed panel on the bottom rear of the keyboard that automatically positions it in an ideal position to ensure ergonomic comfort while typing.  It also conforms to standard QWERTY style with an assortment of special "hot keys", and is compatible with iPads, Android tablets, netbooks and other Bluetooth-enabled mobile devices.
The Bluetooth Bamboo Keyboard will be exhibited for the first time at the Consumer Electronics Show, held January 8-11, 2013 in Las Vegas. For the rest of us, it will be available in February priced at $99.