Fiat recently unveiled that the Environmental Protection Agency had rated its recently announced 500e electric car with a very strong miles per gallon equivalent (MPGe) of 108 MPGe. One of the best ever handed out for a highway rating, it will arrive in California in the second quarter of 2013.
The Fiat 500e, according to EPA findings, also has a combined city/highway estimated driving range of 87 miles. Other interesting data points from the agency include an estimate that the the annual cost to power the electric car is $500 and the fuel consumption rate is 29 kilowatt hours (kWh) per 100 miles. It will also offer a 116-MPGe city/highway rating and a city-cycle rating of 122 MPGe.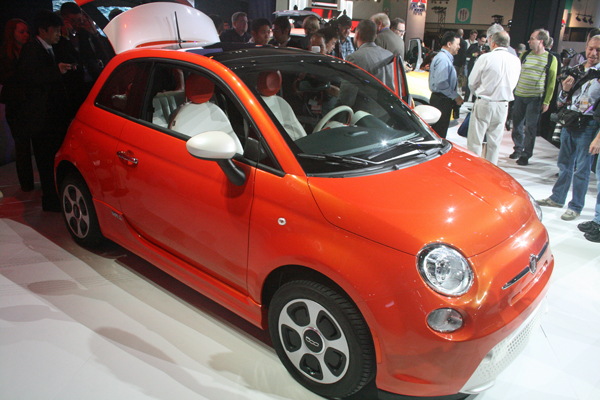 Fiat said its 500e has an all-new, battery-electric powertrain that produces 111 horsepower (83 kW) and it reportedly recharges in less than four hours with its Level 2 (240 volt) on-board charging module.  This is all tied to what's described as "eight efficiency-inspired exterior enhancements that contribute to a 13 percent improvement in aerodynamics."
When it was first unveiled at the Los Angeles Auto Show at the end of last year, the Fiat 500e was talked about as being an eye looker among the lower end electric vehicle segment. It certainly looks capable of that, showing off an "electric orange" Cinquecento with a "steam white" interior highlighted by racy orange stripes and flourishes. It is basically seen as offering "retro-futuristic styling cues harking back to 1960s-era design."
No pricing has yet been announced for the Fiat 500e, and it likely won't be available outside of California.