In 2009, Google's philanthropic arm launched PowerMeter, a free energy monitoring tool it hoped would help people curb energy consumption by allowing them to easily visualize it. The attempt was unsuccessful for a number of reasons, including the fact that smart meters hadn't really caught on yet, but it may not have been totally in vain.
Eyedro, a Canadian energy monitoring company, recently launched a new product/service combination it hopes will replace the PowerMeter. Called "MyFreeMonitor.com" the cloud-based service will allow users to see electricity usage and costs in real time. Although the service is free, its currently only set up to work with Eyedro's home energy monitoring device, which will cost you. Still, the company says it hopes to extend support for other manufacturers in the future.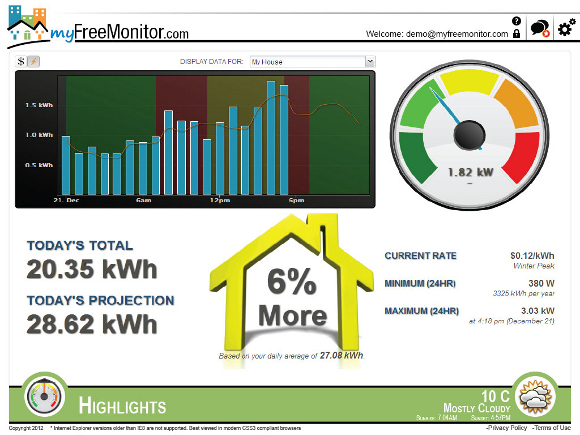 The coolest part about the MyFreeMonitor service is the real time monitoring feature that can help you located and eliminate appliances that drain the most energy. As you turn equipment on and off you will immediately see changes in consumption as they occur. This is a helpful tool when determining peak usage, vampire energy, and what the biggest electricity consumers in your business or home are. Also, users can select any day from the calendar and see what the consumption timeline looked like for that day.
The Eyedro tool also supports various electricity pricing schemes. From simple flat/fixed to seasonal time-of-use type pricing schemes – the Rate Configuration Wizard makes it easy to create the pricing scheme that matches your utility's rates.
A basic subscription to MyFreeMonitor is free, but as mentioned previously, it only works if you've got an Eyedro energy-monitoring device installed in your home. Normally this would cost upwards of $100 but the company is currently running a crowdfunding campaign to get the project off the ground. A donation of just $59 makes it yours.