Consumer Reports has been diving into green car reviews of late, offering up takes on the all-electric Mitsubishi i-MiEV, Ford Focus Electric, Ford Fusion Hybrid and Ford C-Max Hybrid. The verdict across this particular crop of hybrids and electric cars? Decidedly mixed results from the the venerable consumer watchdog organization.
Perhaps the most favorable of the four from Consumer Reports' critical eye looked to be the Focus Electric. One reviewer noted this electric car from Ford "feels like a real car" compared to other electric vehicles. It was found to have great acceleration, handling and a nice ride overall. Calling this electric offering "one of the best you'll find right now," it is felt well justified despite the high price tag. In its review, it was found to offer a driving range of around 80 miles and a full battery recharge time of under four hours when using a higher level charger. Still, for all the praise, the vehicle was not recommended as it was too new "to have sufficient reliability data."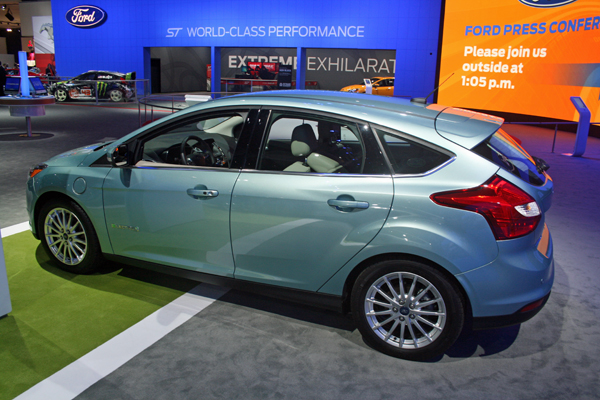 By comparison, the Consumer Reports' take on the Mitsubishi i-MiEV was, in a nutshell, not a wonderful experience. Described by a reviewer as not being a "car in which anyone will be happy spending time" in, handling on the roads was generally pretty sloppy versus the Focus Electric. Its driving range was found to be around just 60 miles, and like the driving conditions, what this small electric car offered up just didn't pass muster.
Moving into hybrids, the spin on the C-Max Hybrid was pretty positive. Calling it "an appealing hybrid hatchback that packs a lot of room within its compact size," Consumer Reports noted it got a fuel economy of 37 MPH. This is 10 below what the EPA estimated rating was at. It was found to be quieter and "much more enjoyable to drive" compared to the Prius and ranked "just below the Mazda 5 at the top of Consumer Reports overall ratings for small wagons." Still, like the Focus Electric, it was seen as being too new to recommend based upon a lack of reliability data.
The other hybrid looked at was the Fusion Hybrid from Ford. It was found flawed despite having an impressive power train, offering "an eye-popping 39 mpg overall." This was still below EPA test ratings though. It  seemed to offer a nice riding experience, but the model picked up for the review was found as well to "have multiple ill-fitting body and trim parts."