The building of a cathedral is measured in many years—sometimes decades—but churchgoers require a secure, safe meeting place to worship together and heal amid times of disaster. Such is the thinking behind the ingenious design for a temporary cathedral being built out of recycled materials in Christchurch, New Zealand, after a devastating 2011 earthquake destroyed the city's 132-year-old Anglican church.
Though the structure is expected to be occupied for about 10 years while the old Gothic revival basalt-stone cathedral is restored, the Japanese architect behind the project, Shigeru Ban, designed the temporary structure with a material more associated with weakness and disposability—cardboard—and made it a symbol of unshaken faith and endurance.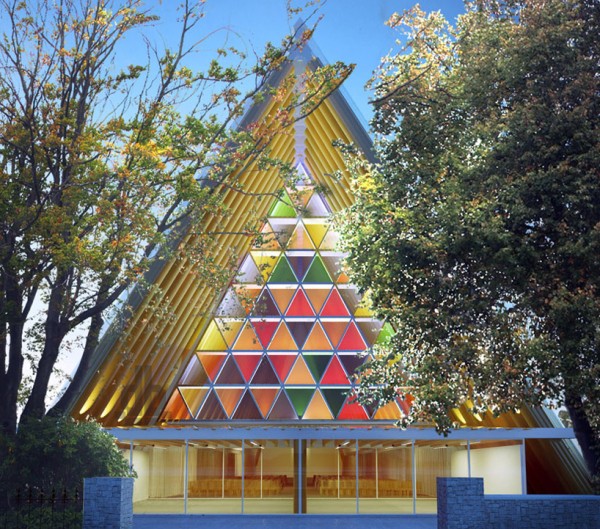 The 6.3-magnitude earthquake struck not far from the city center on Feb. 22, 2011, killing 185 people and destroying large swaths of buildings in the downtown core. The quake, plus several aftershocks throughout the year, toppled the main spire of Christchurch Cathedral, collapsed part of the roof and seriously damaged many of the supporting walls. After determining that the damage was too great to repair, the Anglican Diocese of Christchurch began plans to demolish the structure and build a new cathedral.
The Church also contacted Ban to build a temporary structure while the work on the new permanent structure continued. He design, now known as the "Cardboard Cathedral," is a simple A-frame structure that uses a series of 24-inch-diameter cardboard tubes as roofing materials. The tubes will also be coated with a waterproof polyurethane and flame-retardant chemicals.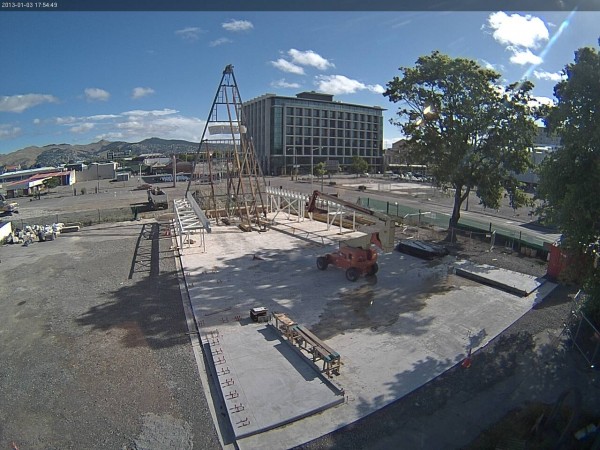 So far, only the rear-wall frame has been erected on a concrete base, upon with the tubes will be laid together on either side at a 60 degree angle. Once completed, the front end of the triangular-shaped structure will be filled with a pattern of multicolored stained-glass triangles. A polycarbon roof will then be placed over the tubes help protect the structure from the elements.
The Anglican Church only expects it will need the church for about a decade until the permanent cathedral is completed, but Ban says the lifespan of his design could be as long as 50 years, if needed.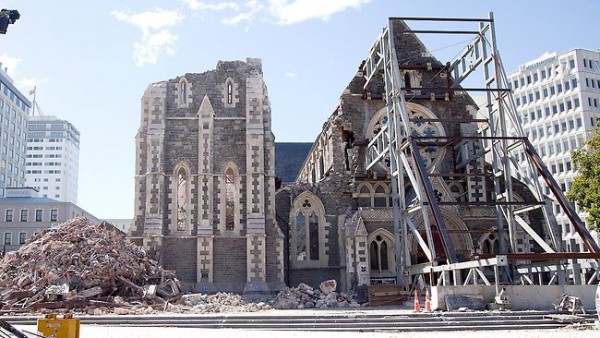 Ban is known as a pioneer in "emergency architecture" that can be built quickly and sturdily in places that have suffered a manmade or natural disaster. He has built similar structures for the United Nations after the genocides in Rwanda, and following earthquakes in Turkey, China, Italy and his native Japan. Some of the recycled materials he has employed before include shipping containers, beer crates and sand bags.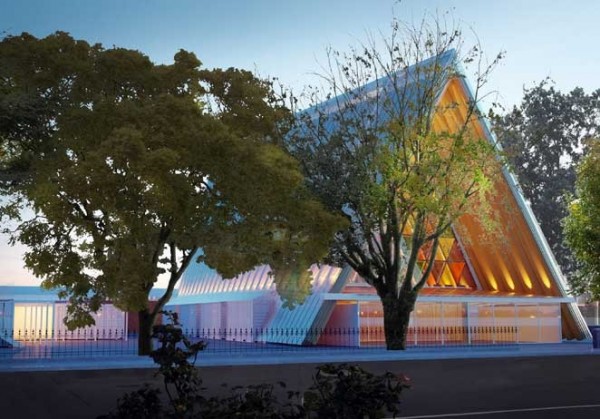 Cardboard, he told the AFP, is often a low-cost and readily available material, even in times of crisis, and can retain high tensile strength when treated properly. Many of his temporary structures can be built in five to six weeks. The Cardboard Cathedral, his largest temporary structure to date, will be able to seat 700 worshippers and is expected to open in April.
Ban said that architects have an obligation to help communities that have lived through earthquakes and has agreed to accept no fee for his work on the Cardboard Cathedral.  "People are not killed by earthquakes, they're killed by collapsing buildings," he told AFP. "That's the responsibility of architects, but the architects are not there when people need some temporary structure because we're too busy working for [the] privileged. Even a temporary structure can become a home."