Most classic college campuses are cloistered spaces that wall students off from the outside world so they can focus on knowledge and other academic pursuits. Italian designer Luca Peralta took this concept to new levels with his proposal for a new central campus at Aalto University in Helsinki, Finland, which bans all but bicyclists and pedestrians from entering.
Shaped like a roughly triangular loop, the quad, known as the "Green Heart," would be entirely circled by an unbroken wall of curved, glassed-in buildings, providing a quiet, tree-lined haven for students and faculty and a central location to tie in other university buildings around the campus.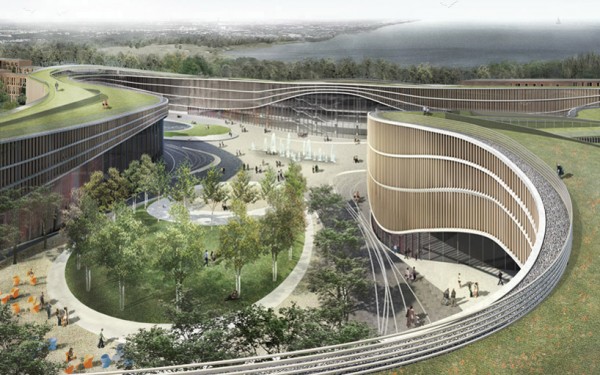 To cut down on noise and air pollution, automobiles would be banned from the quad, but the grand open space could still be easily accessed on foot through three separate archways that rise at a low angle from the ground level. The effect of these entrances is reminiscent of a curtain being partially lifted by unseen strings to reveal a peek at the green interior of the quad.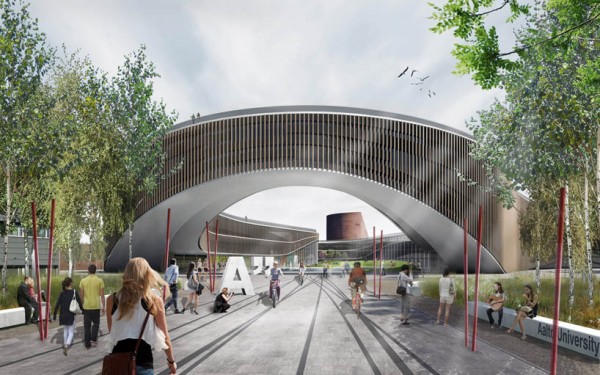 The building appears in Peralta's design as a single, sinuous loop, but it can be divided internally into as many as eight separate sections, depending on the needs of the campus. Each interior section can act as a self-sufficient department, with its own sets of stairs, elevators, classrooms, lab spaces and common areas. The ground-floor spaces around the archway entrances also can be used for commercial restaurants and other retail establishments.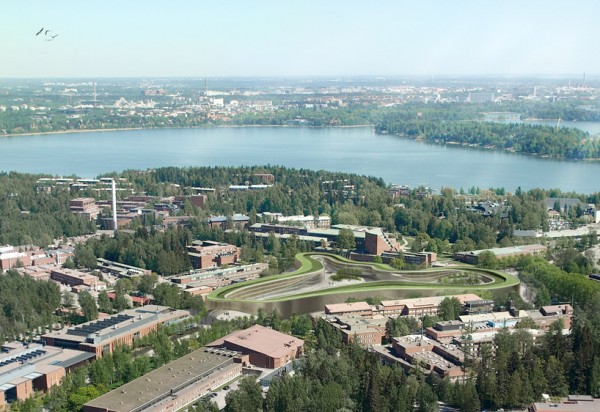 The design includes space for two subway stations and several bus stops adjacent to the Green Heart loop to provide access to mass transit. Bicycle paths are also included around the perimeter as well as through the interior quad.
Besides the quiet quad, filled with grassy areas, trees and fountains, students and faculty will also have the ability to stroll around the green roofs that cover the entire perimeter in two inner and outer loops. The green spaces on the roofs, in addition to providing insulation in the winter and cooler temperatures in summer, undulate slightly with the minor changes in the height of the building, giving the pathways the feel of gentle rolling hills.