What's being dubbed the world's first all-electric car ferry will debut in 2015 to carry people and their autos between Lavik and Oppedal, across the Sognefjord, in Norway. The ferry is a joint venture between Siemens, Norwegian shipyard Fjellstrand and Norwegian ferry service Norled.
Siemens said this 80 meter, or 262 feet, electric ferry, named ZeroCat by Fjellstrand, will be capable of specifically carrying 120 cars and 360 passengers. By making use of electricity as its power source, it will replace the equivalent of a ferry that uses on the same route one million liters of diesel a year, or 264,000 gallons of gas, and emits 2680 metric tons of carbon dioxide and 37 metric tons of nitrogen oxides.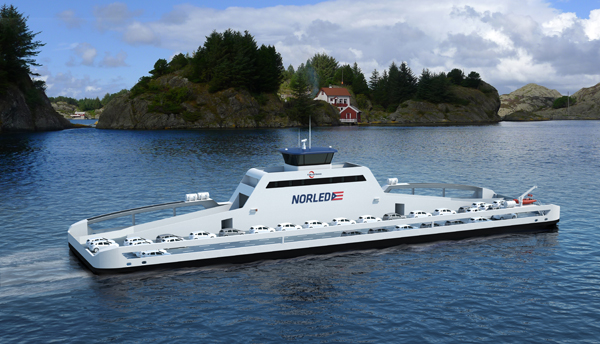 The ZeroCat design is said to be specifically designed to "accommodate the requirements of an electric drive system. As a catamaran with two slim hulls, it offers less resistance in the water than a conventional vessel. Furthermore, the hulls are made of aluminum instead of steel, which is conventionally used. Rather than a diesel engine, the ferry is equipped with electric motors to drive the ship's two screws. These motors are powered by a battery weighing 10 metric tons."
Furthermore, it is noted by Siemens that the ferry, because of these changes, "weighs only half as much as a ferry of conventional design. This saving has a direct impact on the specifications of the drive system. Whereas the ferry currently serving the route has an engine with an output of 1,500 kilowatts (kW) or more than 2000 horsepower, the battery in the new vessel will have an output of 800 kW. In normal conditions, operating at a speed of 10 knots, battery power of 400 kW will suffice."
Key to the efficient operation of this ferry to maintain a schedule of moving cars and riders back and forth, it is said to take only 10 minutes to recharge at its stops. A challenge though exists because the two small villages linked by this water shuttle don't have sufficient power in their local grids to support a quick recharge. To counter this, "batteries have been installed at each port. These serve to recharge the ferry's battery during turnaround and are then themselves slowly recharged from the local grid."
Travel time between the two ports, noted Fjellstrand, is around 20 minutes, and the time spent recharging the ship's lithium-ion batteries at each port will be used as well for loading and unloading of vehicles. Besides the hull being made of aluminum and offering less resistance as ways of being more energy efficient, other touches will include all systems being optimized for low energy consumption and heat recovery, as well as use of LED lighting and solar cells on-board.
It is believed Norway offers ideal conditions for mass use of electric ferries owing to the short distance most travel. To this end it is expected that half of these routes can be operated with this technology. Similar ideas for green technology in ferry use are also appearing in other parts of the world such as Scotland, New York City and Hong Kong.