It's been about a year since we first brought you word of the Acura NSX concept, showcasing what Honda's luxury brand can do with the intersection of hybrid technology and sexy supercar callings. Fast forward to the 2013 Detroit Auto Show, and Acura is now back with a refined version of the NSX which, yes, still looks damm amazing.
Acura noted that this concept "is based on the expected underpinnings of the vehicle Acura will bring to market," though it is hard to say if the hybrid technology will still be present once we see an actual production version. Still, the inclusion of this green car tech is exciting to see. Described as a new three-motor high-performance hybrid system, the Acura Sport Hybrid SH-AWD combines a "torque vectoring all-wheel drive with advanced hybrid efficiency through the use of three electric motors – one motor integrated with the V-6 engine and two motors driving the front wheels – along with an all-new dual-clutch transmission."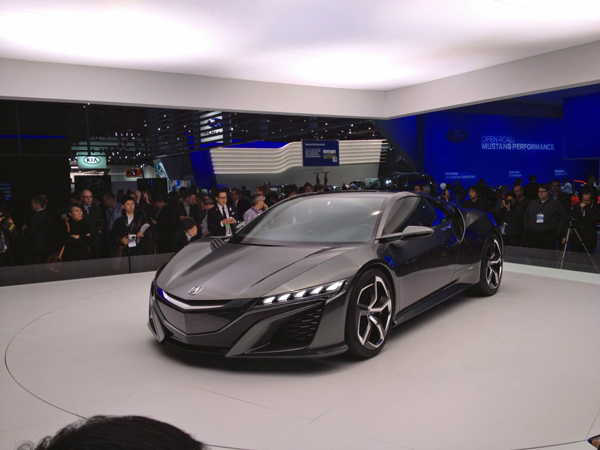 This system reportedly will allow for "instant delivery of negative or positive torque to the front wheels during cornering to achieve a new level of driving performance unparalleled by current AWD systems."  It is mated to a mid-mounted, direct-injected V-6 engine. There's no mention of estimated MPG at this point, but even with the hybrid technology, don't expect the NSX concept to be a gas sipper.
One thing which looks to be unique with the NSX design is the interior. Described by Acura as being founded on a so-called "Human Support Cockpit" theme, it "boasts outstanding visibility, an exotic driving position, and an intuitive "Simple Sports Interface" that minimizes interior clutter, allowing the driver to focus on the driving experience."
The NSX is being developed by a global R&D team led by designers and engineers at Honda R&D located in Los Angeles, Calif., said Acura, and Raymond, Ohio. The new NSX will also be manufactured at a new production facility in central Ohio.