If you're lucky enough to live in the San Francisco Bay Area, you're in for a visual treat this Spring. Light artist Leo Villareal, famous for his work at Burning Man and in museums around the world, is installing 25,000 LEDs on the San Francisco Bay Bridge to commemorate the structure's 75th birthday.
Although the San Francisco Bay Bridge often exists in the shadows of the more glamorous Golden Gate Bridge, but locals say it's no less spectacular or close to their hearts. As Dvice points out, "the iconic San Francisco Bay Bridge has not only been a part of some of our favorite movies over the years, but also serves as an enduring symbol of human engineering excellence." Now, it will have its chance to shine.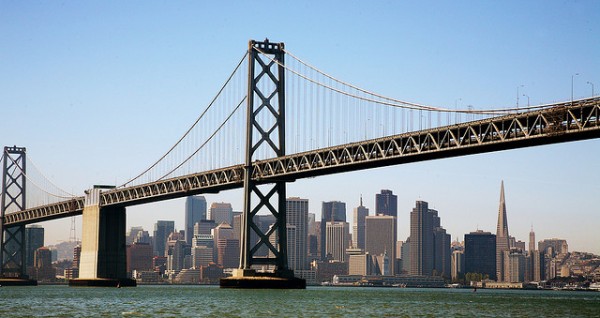 The Bay Bridge, as it's referred to by locals, is actually a pair of bridges. One connects downtown San Francisco to Yerba Buena Island and another that connects the island to Oakland. It opened for traffic on November 12, 1936 and now carries approximately 280,000 vehicles per day on its two decks. It is one of the longest bridges in the world.
The idea to illuminate the bridge with 25,000 light emitting diodes first occurred to Ben Davis, chairman of Illuminate the Arts. After engaging Villareal to design the installation, Davis' group set out on the tedious task of stringing up all the lights without disrupting traffic. "what happens is crews go up in the middle of the night and hang down the side of the bridge and attach up to 500 LEDs each evening, per shift," Davis told KQED.
The art installation is scheduled to launch on March 5th and will remain on the bridge for roughly two years.