As the all-electric Nissan Leaf celebrates two years of sales just completed, its manufacturer is gearing up to go more into green car development as it tries to wrestle market share away from the likes of GM and Toyota. Major markers for this grand plan include word Nissan's largest lithium-ion battery plant in the U.S. is now open for business in Tennessee, how the automaker is targeting making the already green powered Leaf even more eco-friendly and what other eco-car initiatives the company has planned.
Nissan said globally, since December 2010, it has delivered over 46,000 Leafs to customers. Over 18,000 of those alone are here in the United States. With the retooling of its operations in Tenn., plans are now well under way to bring much of the production of the 2013 Leaf and beyond to our shores. To this end, the battery plant just opened will be capable of expanding to produce modules for up to 200,000 batteries annually depending on market demand. Those batteries can serve as the power source for the all-electric Nissan Leaf and for future vehicles that could be added to the portfolio.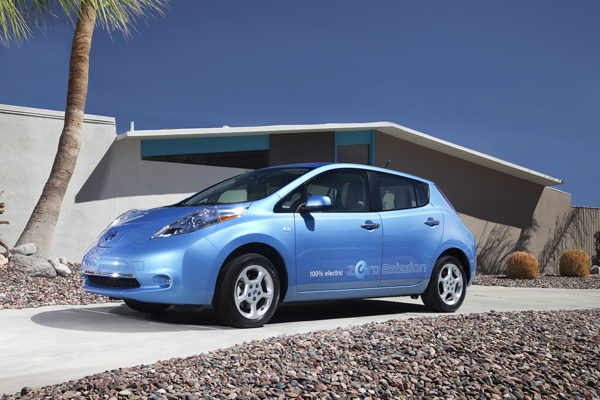 With the nearby retrofit of a production plant to assemble the Leaf,  more than 300 U.S. manufacturing jobs have been added to date. As battery production and Leaf assembly expand to accommodate demand, combined operations could add up to 1,000 additional jobs as needed, according to Nissan. Combined, the construction of the battery plant and modification of the adjacent manufacturing facility represent an investment of up to $1.7 billion when built to full capacity. The project is supported by a U.S. Department of Energy loan for up to $1.4 billion.
In trying to build a greener Nissan Leaf at this facility and others, the automaker said the vehicle will be equipped with an electric motor "using 40% less of the rare-earth mineral dysprosium – without affecting performance." It is a small, but important, step towards further making the eco-car market more environmentally friendly, as criticisms of "green cars" have ranged from the materials being used to produce them to what mix of energy powers the grid the vehicle's battery is recharged from.
Given that the Leaf is doing pretty well in sales after two years, Nissan is now looking to add more environmentally friendly vehicles to its fleet. To that end it plans to add 15 hybrid models by 2016 as well as "new electric vehicles." There was no mention of what these specific models might be, or what markets they would target.