Every year, around 30 million trees are cut down for the holiday season. While many trees are grown on Christmas tree farms for this exact purpose, it still feels like a waste. Indeed, those trees would do a lot more good sequestering carbon rather than holding up ornaments and garland for a few weeks.
There are lots of creative ideas for assembling alternative Christmas trees from repurposed materials, but a recent community-driven project in Belgium takes the cake this year. Inge Vanluyd and Stefan Vanbergen from Belgian design company Mooz decided that what the City of Hasselt needed was a tree that was both crowdsourced and upcycled. The pair solicited donations of ceramic dishware from the community and used the plates, cups, bowls, and saucers to create a huge tree in the town's center square.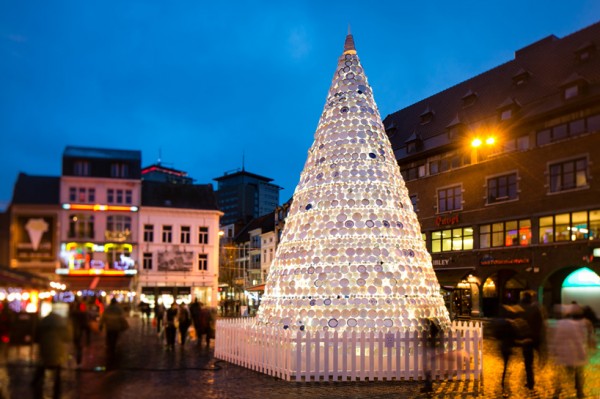 "At home we all have odd plates and cups which just don't go with anything and as a consequence never find their way out of the cupboard," the designers told DesignBoom. "We noticed that friends and family also had 'spare' plates hanging around the house. This was enough to get us thinking about a creative destination for these everyday objects. That's how we ended up with a porcelain Christmas tree in the City of Hasselt (Belgium) 'The Capital of Taste'. "We decorated the tree with objects which would otherwise have remained invisible."
All told, the tree consists of over five thousand separate dishes donated by local residents. The tree stands about 30 feet tall and will be available to see till January 6th in Hasselt's main square.
Still getting ready for the holidays? Check out our 2012 Green Tech Holiday Shopping Guide and Top 3 Tips For Energy-Efficient Holiday Decorating.