As mass transit fleets strive to be greener, electric and hybrid bus offerings are becoming increasingly common. Charging the electric ones though limits how much time they can be used though, but this may be changing as innovation at Utah State University recently culminated in what's said to be a first of its kind electric bus that can be charged wirelessly in a way which allows for battery top offs during its daily operations when the bus stops to load and off-load passengers.
A demonstration happened earlier this month of the Aggie Bus, which rolled onto the streets carrying passengers just 16 months, said the university, after it demonstrated what it calls "the first high-power, high-efficiency wireless power transfer system capable of transferring enough energy to quickly charge an electric vehicle." It was developed by USU's Wireless Power Transfer team, in cooperation with the Utah Science Technology and Research initiative's Advanced Transportation Institute at USU.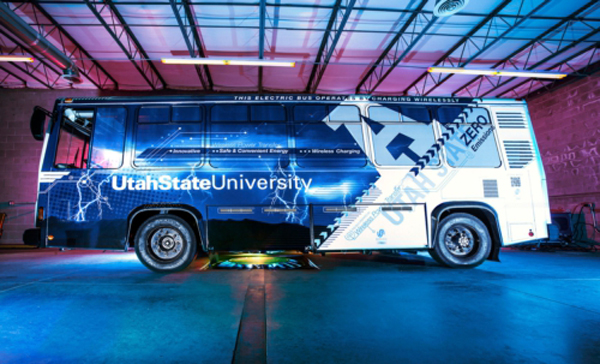 The technology developed by these researchers is described as being based upon "a mix of modern advances in engineering and Nikola Tesla's principles of induction." A prototype of this technology was fitted to the Aggie Bus, wirelessly transferring power over an air gap where no physical contact is required. Measured performance metrics of the test found a power level up to 25 kilowatts, greater than 90 percent efficiency from the power grid to the battery and a maximum misalignment of up to six inches.
A commercial spin out of the research done at the university called WAVE is looking at how the Aggie Bus idea of heavy and expensive electric vehicle batteries through wireless power that transfers electricity between vehicles and the roadway can be taken to market. Working with the Utah Transit Authority, WAVE will launch its first commercial demonstration in mid-2013 on the University of Utah's campus. It will feature what's described as "a 40-foot transit bus on a public transit route and an increase in wireless power transfer charging from 25 kilowatts to 50 kilowatts. The project has been funded by a $2.7 million TIGGER grant from the Federal Transit Administration and the University of Utah which purchased the bus."
WAVE said it "intends to deliver a commercially ready product that operates with the same reliability as current public transit bus options, including diesel and compressed natural gas buses."
"The unveiling of the Aggie Bus is a historic achievement and a great leap forward in the science and engineering related to electric vehicles," said Robert T. Behunin, USU vice president of commercialization and regional development, in a statement. "As a result of the work done by Utah State engineers, scientists and partners, EV owners and operators will now be able to simply drive over a pad in the ground to recharge their batteries, the benefits of which reach far beyond convenience."