Talk about a tiny physical footprint. The Keret House in Warsaw, Poland, measures just 28 inches wide at its skinniest point, and 4 feet wide at its fattest. But this little home in the ancestral homeland of Israeli writer Etgar Keret, it means something pretty big.
The New York Times reports that Keret received a phone call from Jakub Szczesny, a Polish architect, proposing to build an experimental house in honor of him in the old Jewish ghetto in Warsaw. Keret thought at first it was a prank, as what Szcezesny was proposing, in essence, was to build a house that would be the architectural equivalent of Keret's stories, which have gained worldwide attention not only for their quality, but for their extreme brevity.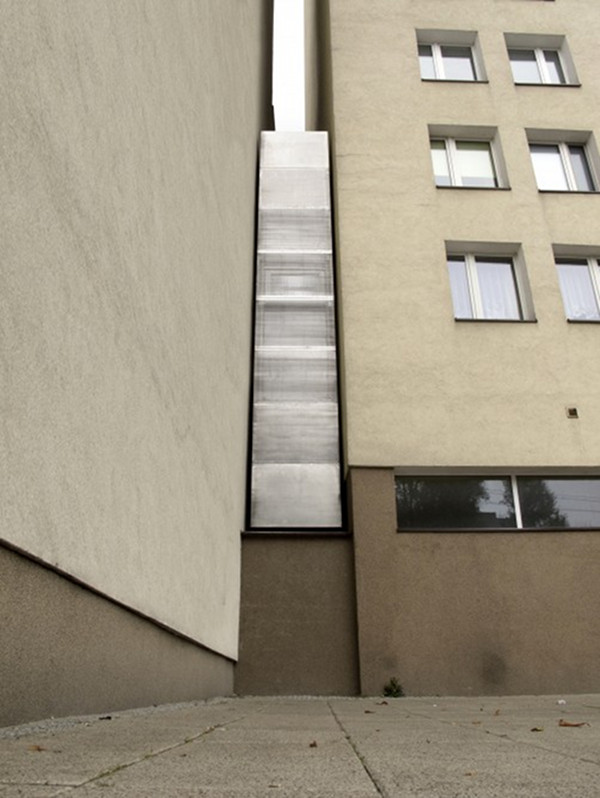 But when Keret flew to Warsaw, he discovered that Szcezesny, a member of an experimental architecture group called Centrala, was sincere. He found the idea compelling — that the city where his grandfather had died, and his mother had fled, would now have a very small house in their honor.
After more than a year of bureaucratic hoops and engineering challenges — the architects was hard-pressed to find any construction company willing to take on the challenge — and with some critical help from a crane shipped in especially from Germany, Keret House opened in October. The Guinness Book of World Records has yet to weigh in on the project, but it may just be the world's thinnest home.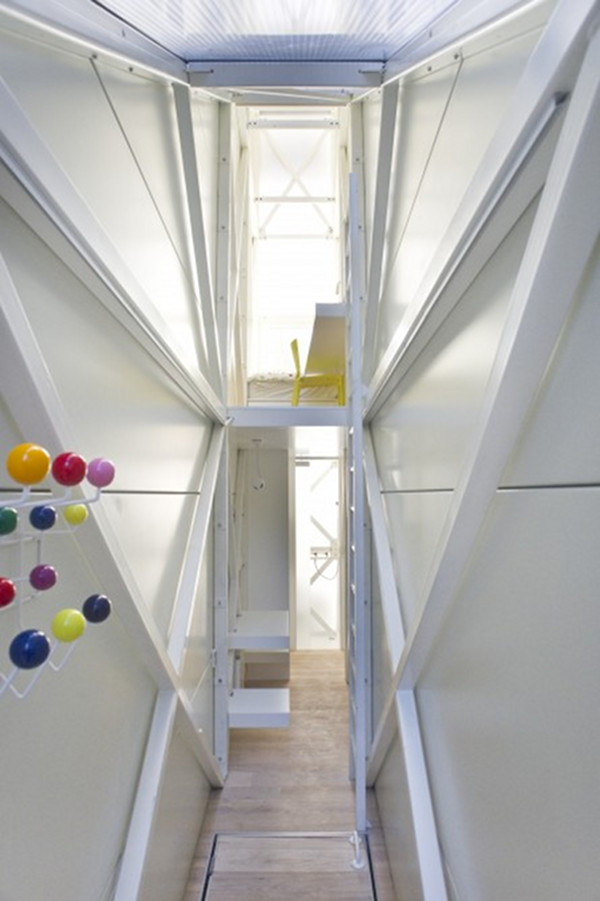 According to Gizmag, the home was built opportunistically in an alley, and varies in width from 122 cm (48 in) at its widest interior span, and just 72 cm (28 in) at its narrowest.
The kitchenette? It's three feet wide, with a little sink and a sliding door that opens into a bathroom with all the luxuries of your last trip on an airplane. Take the ladder to the second floor, and you'll find a bed built for one (sorry, overnight guests). The downstairs area is just 35 inches wide, but hey, it has the highest ceilings and "gets plenty of eastern light," from one of two windows, Mr. Szczesny said. Semitransparent plastic was used for the roof, rather than concrete, allowing for natural daylighting and, yes — the sense of having more space.