Green affordable housing is increasingly a thing. We've seen it lately in San Francisco, New York and even Georgia. Now, Philadelphia has gotten in on the act with a new affordable housing complex in Logan, certified to the rigorous standards of Passive House.
The Philadelpia Inquirer reports that too often, housing designed for those at or below the poverty line in Phildelphia features tiny windows, unwelcoming front doors, and clunky details that readily announce that those within are only there on charity — which may be why so many communities react badly to the prospect of subsidized housing moving in next door.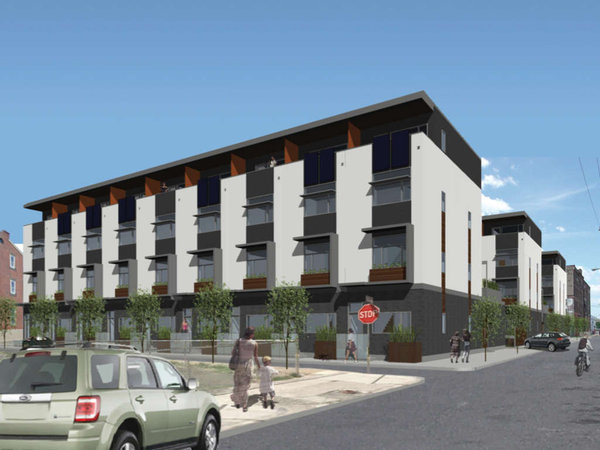 The Onion Flats Rowhouses, however, is the kind of building most people wouldn't mind being seen next to. Its design makes use of grids of glazed black brick and peppermint-green metal, reminiscent of Modrian, and the facades are the sort of thing a developer might dream up as a way to courting tenants from among Philly's rising hipster class. Walk up the steps and stand on a front porch amid rustic planters overflowing with vines — step inside, and the living units are flooded with light.
Inga Saffron, the Inquirer's architecture critic, deems it "low-income housing superior to anything Philadelphia has done in half a century." Not only are these rowhouses stylish and modern both inside and out, they rank among the most energy-efficient ever built in the United States. From soup to nuts, this project is a development of Onion Flats — a firm that designs, builds, develops, and sometimes markets its own residential projects — which went well beyond basic energy savings here by building to Passive House standards. The row house development is the first such project in the state of Pennsylvania to receive certification under this demanding standard.
Because the energy use and building envelope requirements are so tight under the Passive House standard, there are currently only around 30 projects in the country that qualify as "passive" because their energy consumption is near zero. There are several more that approach the standard, but lack certification.
As you might imagine, the Onion Flats Rowhouses are packed with high-quality insulation. They also feature roof-mounted solar panels that provide for nearly all of the development's electricity needs over the course of the year, despite Philly's cloudy winters. (Starting off by reducing the building's energy needs to a bare minimum, we imagine, played a key part in helping the building to approach net zero energy status).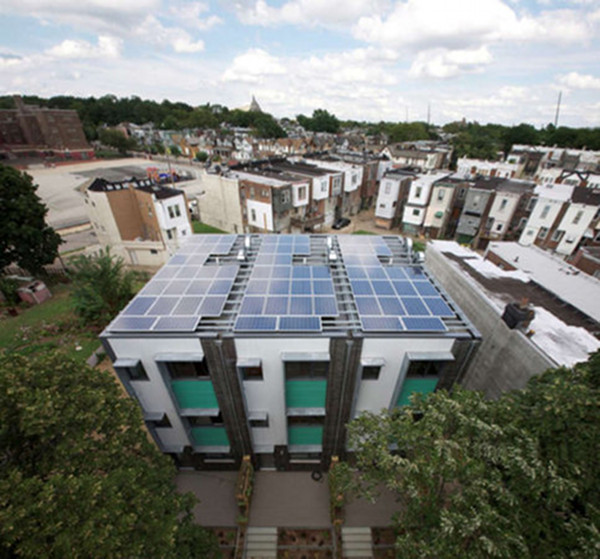 It may seem great lengths to go to for individuals and family who are likely just happy to have a roof over their heads. But that's part of why building to Passive House standards makes so much sense in settings such as this: if you're making less than $25,000 a year, the last thing you need is high energy bills. This, like the Hegemon in Brooklyn, is green affordable housing to break the cycle of poverty.
And here's another key detail: these units cost about the same to build as a conventional brick box — about $250,000 apiece, or $129 a square foot. Which certainly seems to back up the claim made by the developers behind The Village Green in Rome, Geo., that green affordable housing can be greened with no added costs.