Built in 1887, Baltimore's old Weissner Brewery building has a storied history. Briefly shuttered during Prohibition and re-opened in 1933 as the American Brewery, this historic building has sat vacant since 1977, when it was donated to the city. Now the building has emerged from thirty years of vandalism, water and fire damage, to serve as the headquarters for Humanim, a local  social service organization, via an energy efficient renovation.
That renovation tackled both historic restoration and energy efficiency head on. Inhabitat reports that the old brewery, as an historic building, had to be fully restored in keeping with the Secretary of the Interior's Standards for Rehabilitation. (It also had to put in a new stairwell in the rear of the building to bring it up to code). Throughout the renovation, interior wood elements were replaced as needed, but as much of the original building materials as possible were retained.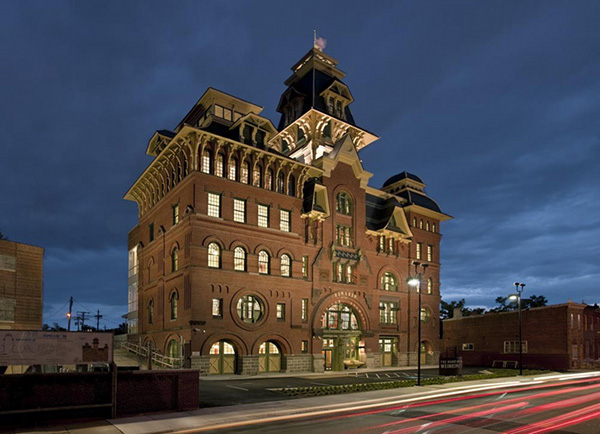 The original brewery grain chute was incorporated into a lobby space and was exposed for dramatic effect, extending up the height of the building. Grain elevators and brew tanks were also retained and re-used to show the history of the building.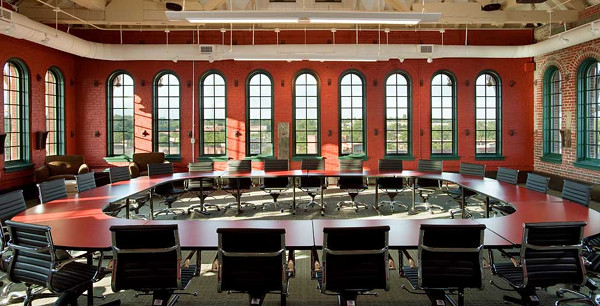 But the renovation also incorporates some key twenty-first century elements, such as insulated windows, high efficiency HVAC and lighting, and large windows that maximize the amount of daylight reaching the building's interior. Recycled and/or salvaged materials were used throughout –which seems fitting, given the fact that the renovation itself has become such a poster-child for adaptive reuse that it's currently up for a WAN 2012 Award in that category.
The new building joins other restored buildings in the neighborhood, which has a troubled history, but has experienced a revitalization in recent years.