As we've talked about recently, the training needs first responders require when arriving at the scene of an accident involving a hybrid or electric car vary somewhat from traditional skill sets learned given the nature of the electronics and battery pack of the green technology vehicles. Of course, to learn these specialized skills firefighters and the like need actual vehicles to train on. Now, thanks to Mitsubishi Motors, they have at least one such electric car donated that can be used as a teaching tool.
Mitsubishi Motors said it recently donated an i-MiEV, or i as it is also called, all-electric vehicle to the National Fire Protection Association (NFPA) as part of that organization's efforts to provide electric vehicle (EV) rescue and extrication training to fire and rescue personnel. It is said to be the first time here in the United States a vehicle manufacturer has provided an electric vehicle to the NFPA for such purposes.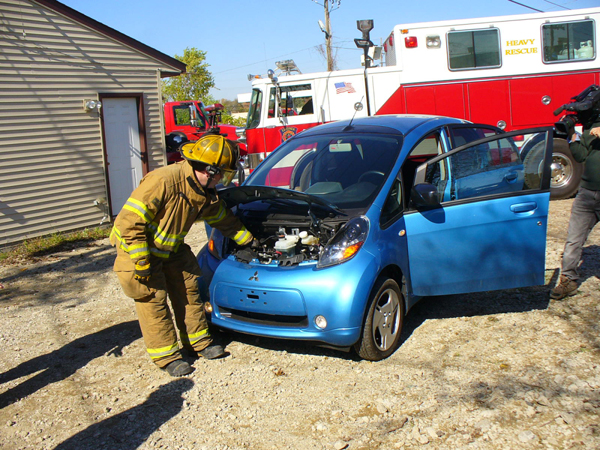 The Japanese automaker noted that with the number of green cars on the road on the rise "the development of proper training materials and exercises is vitally important to the safety of fire and rescue professionals as well as the occupants inside the electric vehicle." Mitsubishi also provided technical assistance to the NFPA, which will help them "develop proper safety protocols in areas including extinguishing fires, rescuing occupants from within the vehicle and using rescue tools properly in extrication tasks to avoid high-voltage wiring and EV-specific hardware and systems."
Besides Mitsubishi, GM has also been working with first responders on training protocols for dealing with potential hazards in these types of accidents. This kind of training has already been in play obviously a number of times, including a particular accident in Portland, Oregon back in April involving a Toyota Prius hybrid.
In addition to firefighters, other first responders such as the New York State Police have been getting training in how to respond to these situations when they arrive on scene. The specific work the NFPA did with the Mitsubishi i was video recorded, and will be used as part of a video-training program to make the information more readily available to those who need to learn from it.