Until more national governments adopt aggressive strategies to speed clean energy development, conservation remains the simplest and most effective carbon reduction tactic. The question that remains is how? Utilities and environmental groups have tried education and incentive campaigns for years with only marginal success. Some believe that combining these efforts with the engagement and analysis tools made possible by mobile technology, could be the way to increase conservation and understanding of the smart grid.
Opower recently released a new product they hope will achieve these lofty goals. Called Opower 4, the new offering is a customer engagement platform that uses behavioral science and big data analytics to promote consumer participation in a variety of utility programs that support energy efficiency, smart grid and new rate adoption and customer satisfaction.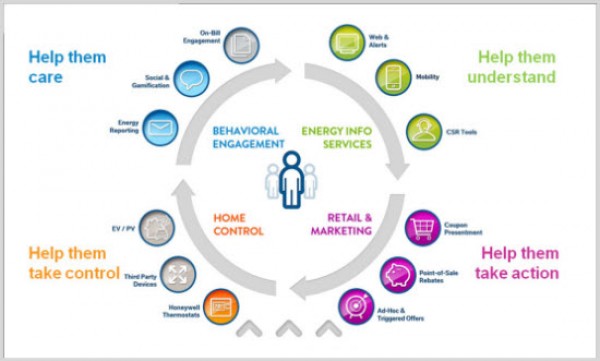 Opower already manages energy data from over 50 million households across 75 utility deployments and then analyses that data, and combines it with weather data, county assessor data, and other pieces of information to provide homeowners with efficiency tips and insights.
Opower4 builds on that massive collection of data to not only help utility customers see and understand their energy consumption patterns, but also to alter their behavior. In addition to mailed and digital energy reports, Opower's Social Energy application encourages utility customers—and their friends—to engage and compete with each other about their energy use. The Opower4 platform has also been designed to interact with home energy management devices like the Nest thermostat as soon as they're installed.
Several leading utilities, including EnergyAustralia and National Grid, have signed on to deploy the new platform. EnergyAustralia Group Executive Manager of Retail, Adrian Merrick, said the partnership will help customers and communities better understand their energy usage and will inform them on how to implement more efficient solutions within their homes. Whether that's true remains to be seen, but Opower's track record is promising. To date, the Opower platform has delivered more than $175 million in savings for utility customers and saved 1.6 terawatt hours of energy.