The housing market of Phoenix, Ariz., was hit especially hard during the recession (though now is showing signs of improvement). Whereas the region's cheap tract housing in sprawling subdivisions was selling like hot cakes prior to the crash in 2008, the economic decline put a definitely chill on those hot commodities, making it increasingly harder to sell new homes, much less funky fixer-uppers. If you're a mega-builder like Pulte Homes, sure, you can offer solar-standard and solar-ready homes at Del Webb developments. But what if the home you need to move dates back to the 1950s?
At 5701 N 10th Street in Phoenix's Marlen Grove neighborhood, Rocking Horse Redevelopment took just such a home and turned it into one of the National Association of Home Builder's Green Remodel of the Year for 2012.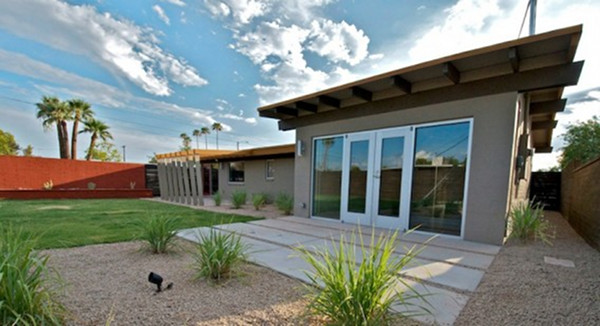 Improvements to curb appeal don't even seem to approach the aesthetic improvements associated with this recent remodel. The home, prior to extensive renovations, looked a lot like the average home built during the 1950s in the Valley of the Sun — old, pink, and deeply in need of repairs. Rocking Horse's renovation not only brought the house into the 21st century in terms of aesthetics, it reduced the home's overall energy and water consumption by more than 50 percent.
Jetson Green reports that the existing home, originally built by Ralph Haver in 1952, was improved with a new bathroom, kitchen, and 600-square-foot master bedroom. Rocking Horse installed a new HVAC system, R38 insulation, a new duct system, and Energy Star appliances to save energy. To save water, the company installed WaterSense fixtures, low-flow and automatic irrigation, and non-invasive plants and reduced grass turf (a huge factor in a hot, dry climate, where a lawn makes about as much sense as a sled dog).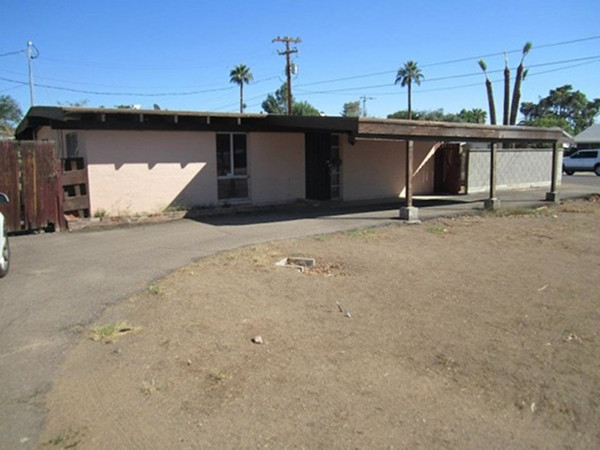 Energy efficient Bosch appliances are part of the mix, as is a Rinnai tankless water heater, Dunn-Edwards low-VOC paint, Ann Sacks and 3-Form tile, American Standard dual-flush toilets, a Kohler tub, Kraus kitchen sink, Peerless kitchen faucet, Broan exhaust fans, Jeld-wen interior doors, Kohler shower fixtures, and lighting from Tiella, Artemide, NOVA68 and Possini.
The home encompasses 1,751 square feet and includes three bedrooms and two bathrooms. It's currently listed for sale for $359,900, just under the average Marlen Grove home price of around $389,633 — a price we imagine it wouldn't have dreamed of approaching, prior to remodel. In recognition of the home's overall attention to green building materials and strategies, NAHB awarded it certification at the Emerald level through its National Green Building Standard (NGBS).
The NGBS was developed to was developed by the NAHB  and the International Code Council in 2009, with the goal of establishing a standard definition of a green home based on the process that the American National Standards Institute (ANSI) follows to determine the specs for everything from acoustical devices to construction equipment. It has since racked up around 4,000 certifications, many of them in the Northeast and Texas.