One of the ways that architecture and infrastructure most directly affects the culture of our cities is in how it connects people — or fails to. A prime example of the problem, as well as one approach to a solution, comes to us from Milwaukee, Wisc.
Fast Co.Exist reports that in Milwaukee's predominantly African-American area of Harambee, some residents need to make their way down a steep foot path and then cross six lanes of traffic without the aid of a traffic light to get to the Riverworks Center retail area. This shopping center is located in a more caucasian and affluent middle-class neighborhood — and though the two neighborhoods are located right alongside one another, those six lanes of traffic effectively work to keep the two neighborhoods separated.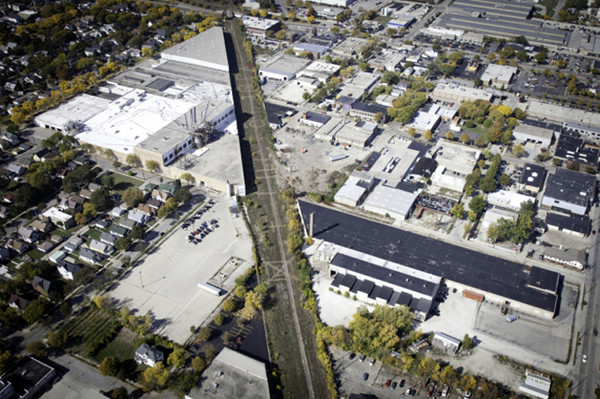 Local designers Keith Hayes and Rob Zdanowski have a big green idea to change that, with an adaptive reuse plan for an abandoned railroad corridor that runs through Harambee, as well as some of the old tires that have piled up along it. That idea is known as the Artery, a proposed 2.4 mile linear trail connecting the Riverworks Center to Harambee. It's an offshoot of a project Hayes started while he was still attending classes at the University of Wisconsin-Milwaukee, called Beintween, an organization with a goal to "connect the dots of cities–leftover spaces and people with leftover time."
From that larger conceptual overview, Hayes moved to specific local instance of "leftover space," and the opportunity to make a real change close to home. That leftover space is Harambee's abandoned rail corridor, which is currently used as an illegal dumping site for construction debris, auto tires, and old televisions.
Hayes' and Zdanowski's plan for this corridor reflects both a national and international trend toward adaptive reuse of abandoned industrial infrastructure in our cities. Witness the iconic success of New York City's High Line park, London's quest to find a new use for old tube tunnels, and Chicago's pedestrian-trail-in-the-works — the idea is to enrich the quality of life in cities, and in many cases, help to overcome the tyranny of auto-only infrastructure, by cleaning up and repurposing areas that bear testament to a bygone industrial era.
In Milwaukee, the Artery would take over that abandoned railroad corridor with a trail that gives a nod to the area's current history as a dumping site, via its use of a special "matireal"–i.e., a geo-textile made out of old tires. Hayes told Fast Co.Exist,  "The prototype is an 18 inch by four foot reduction of automobile tires set inside a polycarbonate case. We've taken actual gravel from the rail line and backfilled cells."
The trail will also feature some interactive art installations, giving residents not only safe passage by foot to and from Riverworks, but some fun for kids and adults alike along the way.
So far, the City of Milwaukee has expressed interest in the Artery, and has also let on that it has the federal dollars in hand to buy the first two-thirds of a mile for the project. The Artery has also been awarded $25,000 in grants from the Youth Council of the City of Milwaukee to engage local youth in constructing the trail, and talks are in the works with ArtPlace, a philanthropic organization in Chicago.
The final two pieces of the puzzle? To raise $10,000 on Kickstarter, and to secure the permission from the private owner of the abandoned rail corridor to build the trail. These owners, hopefully, will see the value in turning this "leftover space" into a bridge between two unofficially segregated neighborhoods.