Honda, at the 2012 Los Angeles Auto Show, unveiled additional information about hybrid plans for its popular Accord sedan. The vehicle has not seen a hybrid in its line up since 2007, so the fact Honda is choosing now to ramp up its plans reinforces the fact that, while it recently crossed 1 million hybrids sold, it still has a long way to go to catch up to juggernaut Toyota's 4.6 million+ cars push out to customers worldwide in the same under the hood technology category class.
The Japanese automaker said its upcoming 2014 Accord Plug-In Hybrid, which appeared at the annual Detroit Auto Show this past January, likely will be sporting a a two-motor system powered by a 2.0-liter, i-VTEC inline four-cylinder, Atkinson cycle engine paired to a 120 kW electric motor powered by a 6 kW lithium-ion battery. This system offers up some rather impressive EPA estimated specs of 47/46/46 mpg (city/hwy/combined) and a MPGe rating of 115, said to be the best in its class when propped up against the Ford C-Max Energi (100 MPGe), Chevy Volt (98 MPGe) and Prius Plug-in (95 MPGe).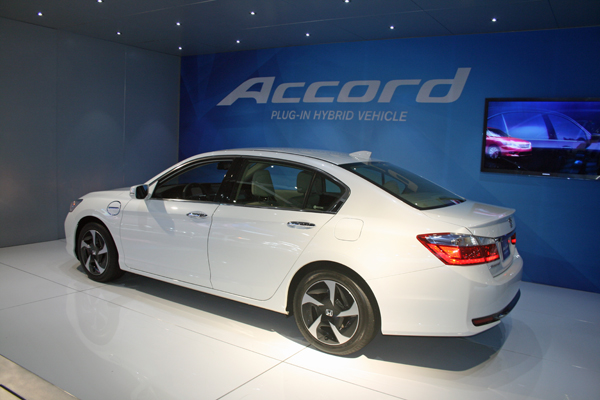 If it holds true to what was showcased in Detroit, then this plug-in hybrid in all-electric mode is good for a range of approximately 10-15 miles in city driving scenarios and a top speed of 62 mph. Fully recharging the battery will take less than four hours using a 120-volt, outlet and less than 1.5 hours using a 240-volt charger.
As plans go right now, Honda said the Accord Plug-In Hybrid should be available in California and New York come January 15, 2013 at a starting price of $39,780. In the former it will qualify for single-occupant carpool-lane access.
With regards to the planned Honda Accord Hybrid, the company wasn't quite as forthcoming with details. It did note however the hybrid will launch nationwide next summer, with a pretty good estimated fuel economy of 49/45/47 mpg (city/hwy/combined).