Fleet purchases of electric vehicles make a lot of sense, if only for the centralized charging infrastructure possibilities that can be exploited, but they really makes sense for General Electric, which has a stake in the success of EVs (and other alternative-powered vehicles).
Not much of a surprise, then, to hear the announcement that GE will buy 2,000 new Ford C-Max Energi plug-in hybrids, and in return Ford will promote GE's WattStation EV chargers and what GE calls CNG In A Box, an integrated compressed natural gas fueling station setup.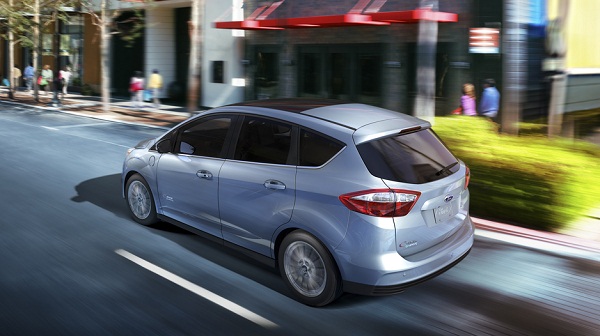 There's more to the deal, as well, the companies said:
Ford also will supply new alternative fuel vehicles for use at GE's Vehicle Innovation Center at the headquarters of GE's fleet management business in Eden Prairie, Minn. The Vehicle Innovation Center gives GE's commercial customers the opportunity to learn about and test drive alternative fuel cars and trucks in a single location with assistance from GE's fleet, transportation, energy and advanced technology experts. Ford already has placed its pure electric Focus at the center.

The two companies will also work with researchers at Georgia Tech to study GE employee driving and charging habits, with the goal of improving all-electric driving and charging performance. Researchers will use Ford's MyFord Mobile app – with real-time battery charge status and "value charging" that automatically recharges at lower cost, off-peak electricity rates.
This isn't GE's first foray into plug-in fleet purchasing. Back in 2010, the company said it would buy 25,000 electric vehicles for its fleet and fleet customers, with around 12,000 coming from General Motors. As Green Car Reports reported in February this year, GE put out a memo saying that "all sedans ordered in 2012 will be the Chevrolet Volt," and added that only field engineers were exempt from the "Volt-only rule." (BTW, with its story, Green Car Reports wrote, "Stand by for shrieking from certain segments of the media about how 'GE Forces Employees Into Electric Cars!' And, rather comically, that's exactly what happened!)
The C-Max Energi, which Ford says will deliver up to 620 miles of range on a single tank of gas and a fully charged battery, will price for nearly $30,000 starting after a federal tax credit. We reported earlier this month that the vehicle was on its way to dealers in around half the states, and was expected to be on sale nationwide early in 2013.