With the reelection of Barack Obama, Canadians won't have to fend off an invasion of disgruntled American liberals any time soon. But the Earthship invasion of our neighbor to the north, it seems, is already in full swing.
This deep-green, low-tech brand of building — which originated in UFO-prone New Mexico — makes extensive use of earth-packed tires as building blocks, along with various other forms of refuse and natural materials. It is the brainchild of architect  Michael Reynolds, who characterizes it as a "radically sustainable" method of home building. The Earthship method incorporates about 45 percent recycled materials, and relies largely on the sun for heat.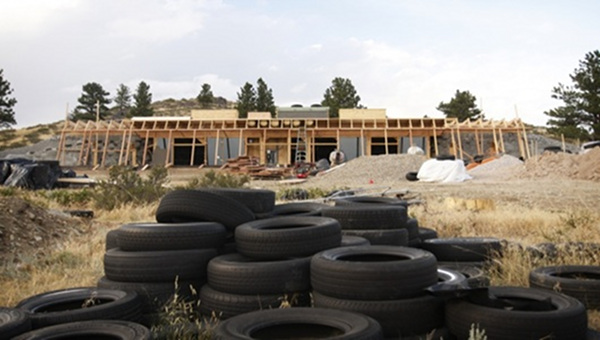 Mother Nature Network reports that since the inception of the Earthship in the 1970s, Reynolds firm, Earthship Biotecture, has built such homes all over the world. But Earthships recently received a boost in Canada following a 2007 documentary about Reynolds called Garbage Warrior. The building method has proven popular, for both environmental and economic reasons.
First, let's talk sustainability. The six key design principles of the Earthship, as established by Reynolds, are building with natural and recycled materials; solar thermal heating and cooling; solar and wind power for electricity; rain- and graywater harvesting; contained sewage treatment; and on-site food production.
All of which, you'd think, would not come cheap. But that's the beauty of this building system, which can bring in a 2,900-square foot, eco-friendly home in at just $55,000. That's the anticipated costs of a southern Ontario home designed by a Toronto-based Breathe Architects, which specializes in Earthship-type homes and currently under construction by owner/builders Craig and Connie Cook, a pair of fifty-something retired custodians. (Granted, the couple is donating their labor, but still.)
Once the home is completed, these retirees won't need to fret unnecessarily about the electric bill, their wind turbine will kick in electricity for the home. Nor will they have to give too much thought to the water bill, as filtered rainwater from their rooftop catchment systems will provide for both potable and non-potable needs.
According to Kirsten Jacobsen, the education director at Earthship Biotecture, there are dozens of such projects across Canada, with several currently under construction in British Columbia, Manitoba, Ontario and Quebec. The UK's Globe and Mail reports that Earthship Biotecture held a seminar in Toronto last month that attracted 150 people. Interest is so high that Reynolds is in the midst of getting his architecture license in every province.
Interested in other Canadian Earthships? Check out the Globe and Mail's excellent article.