Ever find yourself neatly tucked into bed, almost dozing off, when suddenly you remember that you left the kitchen light on? Worse yet, ever have that feeling when you're about to board a plane for a week-long trip? While innocent enough, these problem arise simply because, for most of us, the wall switch is the only way to control our home lighting. Well, that's about to change.
ILumi Solutions, a Dallas-based lighting and technology start-up, recently unveiled what it calls the most intelligent LED light bulb in the world. Called the iLumi, this line of customizable, highly-efficient LEDs feature the company's HyperLux technology for extremely bright multicolor light, as well as bluetooth technology that allows the lights to be controlled from just about anywhere.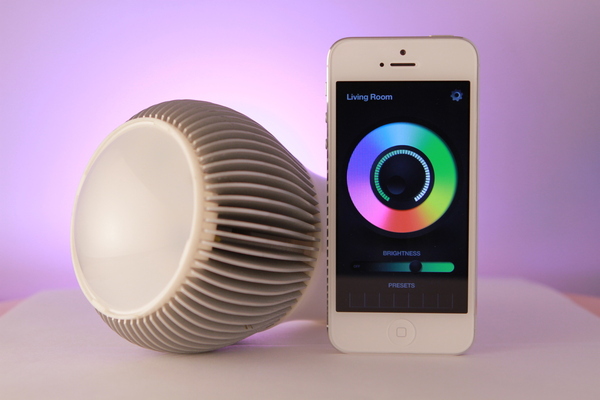 With no special wiring, programming, or fixtures necessary, the iLumi gives users complete control over their lighting, even if they're not in the immediate presence of the LED. Bluetooth Classic and Bluetooth Low Energy (Bluetooth 4.0) are inside every iLumi, as well as a processor, memory and real-time clock, giving users the ability to adjust, customize, program and schedule one or multiple iLumis. These LEDs can tell when you arrive and when you leave the house. They can even follow you around the house, automatically turning on and off as they sense you are near or far (which is either awesome or kind of creepy, depending on how you look at it).
"iLumi is as easy as screwing in a light bulb and downloading an app. We are giving people mastery over their lighting without the complexities and limitations of other specialty lighting and lighting control systems," said Corey Egan, co-founder and CEO, iLumi Solutions.
The iLumi light bulb series will be offered in four versions with prices starting at $59: a larger 100 watt replacement bulb that consumes 15 watts and produces 1,100 lumens, and a smaller 60 watt replacement bulb that consumes eight watts and produces 650 lumens. With an expected 20 year life span, the iLumi would pay for itself multiple times before needing to be replaced.
Want to give it a try? Consider donating to the company's Indiegogo campaign to help bring the iLumi to mass production. Indiegogo backers will be the first to receive iLumi bulbs in spring 2013.