As GM gears up for the public debut of the Chevy Spark EV here at the Los Angeles Auto Show, a future of its green car strategy rides with this vehicle which will hit select showroom floors in various markets next year. Coming off of the growing success of the Volt, GM is betting the Spark EV will open the door for it to new demographics of drivers who are perhaps looking for more of an urban commuter style vehicle as well perhaps as a younger audience.
Priced at around $25,000 after tax credits, the Spark EV   technology-filled, all-electric mini car that goes from zero-to-60 mph in less than eight seconds, a GM official said. At a press event we attended on the eve of the official unveiling, people were busy climbing in and out of this mini car, examining its features and size and perhaps wondering to themselves – is this something I'd like to see myself driving in my city?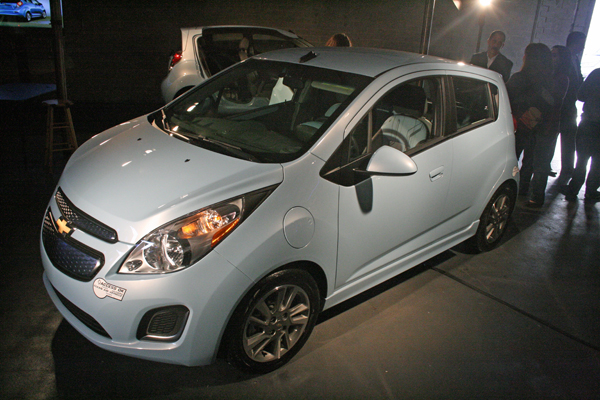 It is a question GM is banking will have a resounding answer of YES. This car is central to the resurgent automaker's strategy of 500,000 green cars on the road by 2017, which is a task the Volt alone cannot obtain. What is hoped for with the Spark EV is that its fun look, reportedly excellent range (of which there's been no official mention as of press time on this article) and sticker price will give would be buyers something extra to consider as they shop around for a decidedly entry level electric car that's good for being an around town style vehicle.
Check out the photos for yourself of the Spark EV below and leave us your thoughts on what this car might, or might not, mean for the future of GM's green car strategy.
Editor's Note: EarthTechling is covering the Los Angeles Auto Show courtesy of GM, who paid for our lodging and air fare to come down to the event.