While most of us will wait until we've settled down and launched a family to consider building a home of our own, 17 year-old Austin Hay of Santa Rosa, Calif., recently put the finishing touches on his own hand built bachelor pad. Eschewing dorm life for a tiny home on wheels, this high school senior is looking forward to taking his new digs with him to college.
Mother Nature Network reports that Hay built his tiny-house-on-wheels via DIY plans from the Tumbleweed Tiny House Company  in the backyard of his parents' home using skills he learned in a "not very good" woodshop class at school and money saved from gigs working at a summer camp. "I don't think bigger is better necessarily … too many chores," says Hay said in a 2011 video, in the midst of building the home. "Plus, there's no mortgage on it. Living small means less bills, living big means more bills. That's how I think of it."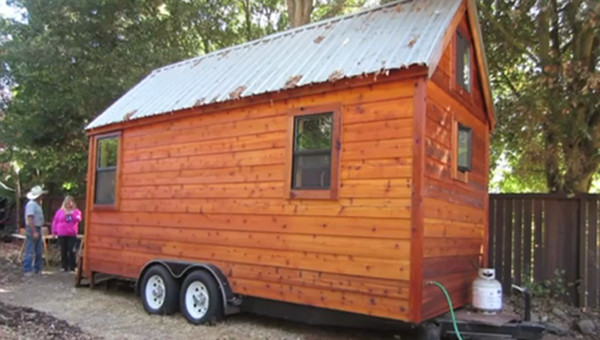 Hay recently celebrated the completion of his tiny home with an open house. Visitors got to check out the full kitchen, composting toilet, and DIY sofa bed in this 130-square-foot wonder. There are still a few details missing — solar panels, among them — but Hay's costs for the home came in at around $12,000, a portion of which was contributed by Hay's grandfather.
Another benefit of owning your own home during college, we imagine, is the freedom this young man will have in his own space. Forget the Residential Assistants telling you to keep it down, or even the landlord dictating whether nails can be used on your walls. And while some freshmen might not benefit from that sort of freedom, we say, Austin Hay has earned it. After all, it's his place — no one can tell him not to throw a (tiny) house party.
And when he's all grown up, maybe he'll move on up to a roomy 800-square-foot tiny home, like the River Road house in Oregon.