There are a total of 11 projects across five Northwest states that make up the Pacific Northwest Smart Grid Demonstration Project, but only one that designed to get graduate students — and students in general — geeked about the potentials of a more intelligent, responsive grid. That's the University of Washington's project, which launched at the end of October.
The UW happens to be the largest customer of Seattle City Light. Before the project began, the UW had seven meters on campus — now it has more than 200 smart meters, and one in nearly every building. This preponderance of meters is designed, first, to give the utility the kind of detailed energy usage information that will help it to refine its smart grid program as a whole; second, to give building managers the tools to save cash and carbon; and three, to show students what twenty-first century electricity management looks like.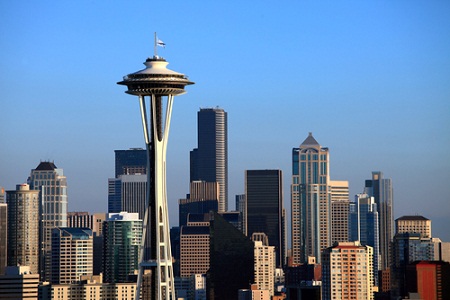 Wonder how much energy it takes to heat and cool your classrooms, and power all that e-stuff in your dorm? Check out the smart meter, which relates the real-time energy usage of specific building systems. And for the forgetful, there's even in-room energy management devices at a new residence hall on campus that allows students to shut off the juice to their room remotely. (Which can be conveniently programmed to shut down the juice in your room when, say, you're away at class.) Graduate students at the University will study the information from this residence hall to determine how energy usage data can influence energy-saving behaviors on the part of the end-user.
The Pacific Northwest Smart Grid Demonstration Project as a whole is led by Battelle, which operates the Pacific Northwest National Laboratory. The lab here is working to gain information that's especially helpful at the regional level, especially with regard to how the intermittent power produced via the region's many wind farms can best be managed to meet demand for electricity. One tool under development here is turning wind power availability and forecasts into incentive signals (read, prices), updated every five minutes and sent to participating utilities. This allows each project's contributors to make local decisions on how their piece of the smart grid project can support local and regional grid needs.