Is green building a trend in major global sporting events? It certainly was at the London Olympics, which saw all of its permanent structures built to green standards, and materials from all of its temporary buildings recycled or reused upon deconstruction. Now Brazil appears to be following suit as the country prepares itself both for the next Olympics games (in 2016) and the 2014 World Cup.
Fast Co.Exist reports that the Estádio Nacional de Brasília, a stadium in the middle of Brazil's capital, Brasília, is currently undergoing a renovation targeting LEED Platinum certification, as well as a deep green bragging rights as the first net-zero energy stadium in the world. Designed by Castro Mello Architects, the structure will be able to seat just under 70,000, making it the second-largest World Cup stadium in the 2014 games.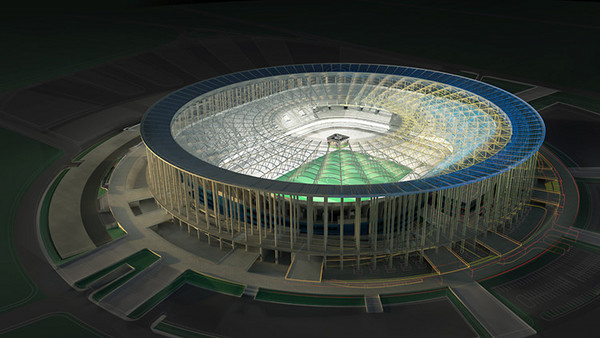 The remodel of the stadium (formerly known as Estádio Mané Garrincha), will employ a number of green strategies, including solar power, bike parking, rainwater harvesting, low-flow water fixtures, natural daylighting, and perhaps most notably, a pollution-eating membrane. This photocatalytic membrane on the roof will capture air pollution as it falls, breaking down chemicals and removing them from the atmosphere. This is a thoughtful green touch, as it's been estimated that over 50 percent of CO2 emissions associated with this stadium will arise from transportation to and from events.
A ring of solar panels on the roof provides the stadium's power, and — thanks to Brazil's new net-metering legislation — will feed excess energy back to the grid. Those arriving to games on their bikes will have access to 1,000 VIP bike parking spots indoors, as well as 2,500 spots outside. Much of the materials from the old stadium were reused in its renovation.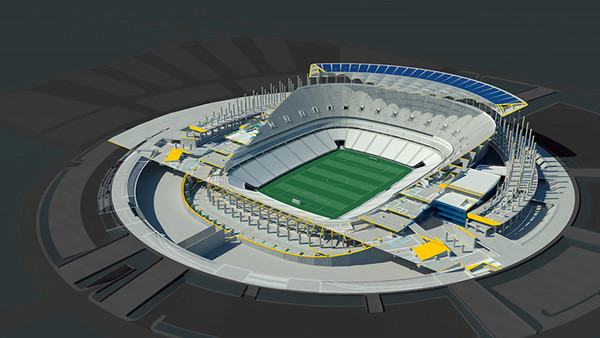 The stadium is expected to cost more than $400 million by the time it's complete at the end of the year. But those solar panels, at least, are expected to provide a return on investment in 10 to 12 years, and will kick out virtually free power for the stadium for a good 13 to 15 years after that.
This green stadium renovation in Brasília joins another in Rio de Janeiro, the historic Estádio do Maracanã. The Rio stadium is undergoing a renovation designed to make it more energy efficient, flexible, and comfortable for fans, as well as to help it accommodate more people.
Add to that the fact that the Rio Olympics is partnering with Gehrlicher Eclouz Solar do Brasil – a joint venture of German photovoltaics company Gehrlicher Solar and Brazilian environmental technology group Ecoluz Participações – to bring solar power to 12 stadiums across Brazil for the 2014 World Cup, and you've got a very green global event indeed.