Even as New York City dries out and cleans up, its arts and culture carries on — a fine example of which can be found in Madison Square Garden's latest installation, the Buckyball. Designed by New York-based artist Leo Villareal, this creative illumination of the geodesic dome (which comes to us via Architizer) stands tall, undamaged and relit after Hurricane Sandy.
Long lauded as a resource innovation in the world of architecture, Buckminster Fuller's geodesic dome is said to enclose a greater volume of space with less material than any other type of structure — it's also easily erectable, and offers a high degree of structural stability. Villareal's Buckyball isn't a structure, of course, and doesn't enclose anything — but by lighting up Buckminster's breakthrough innovation in LED lights, he aims to creatively illuminate the constructed form.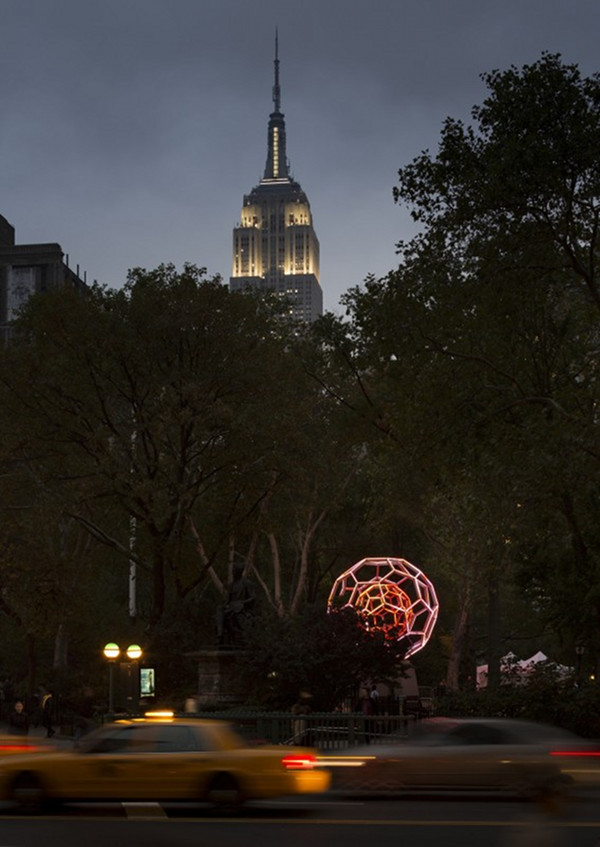 The sculpture — like much of the region — was powered down during the recent storms, but as of November 9, was back up, according to The Architect's Newspaper.
Rising to 30 feet tall, Villareal's Buckyball is made up of two nested spheres that were created via a series of adjoining pentagons and hexagons resting atop a platform. LED tube lights cover a metal frame, and light up in different colors and configurations as determined by mathematical sequencing. All told, the sculpture can exhibit over 16 million different shades.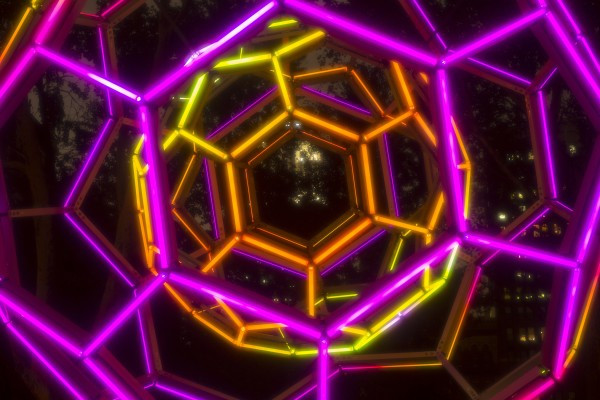 If you happen to be in the area, you can check out this unique installation through February 1, 2013. It is typically lit up from dusk till dawn.
(And if you're interested in large-scale LED artistry, keep an eye on Villareal, who's also planning to light up the San Francisco Bay Bridge next year with a project called The Bay Lights.)