The bottom-line case for businesses going green is growing. First, there was the evidence that green buildings command higher rents and carry less risk in a tough economy. Then, the widespread and growing interest in saving cash (and improving public image) via energy efficiency. Now there's evidence that going green as a company will actually make your employees more productive.
A new study by UCLA researcher Professor Magali Delmas and Sanja Pekovic from France's University Paris-Dauphine entitled "Environmental Standards and Labor Productivity: Understanding the Mechanisms That Sustain Sustainability" was published recently in the Journal of Organizational Behavior (and came to us via the Environmental News Network). It found that companies that adopt green practices and standards are have workers that are 16 percent more productive than the average.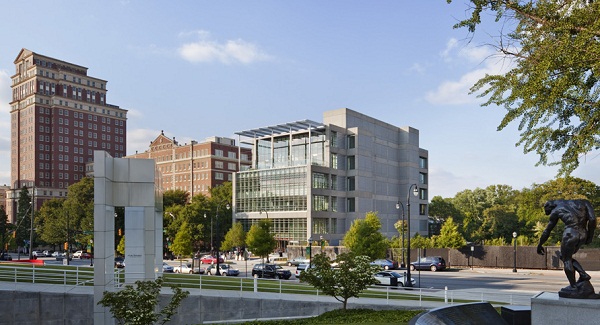 Is an increased sense of loyalty at work here — or is it simply easier to concentrate on the computer screen, perhaps, with fewer toxins floating around in the office? Surveys conducted by the researchers suggest the former, though there may be a constellation of factors in play, as surveys found that green companies also had more advanced employee training than other companies, as well as greater interaction between coworkers.
Productivity in this study was determined in a fairly simple way: by taking a company's value added (a.k.a., profits) and dividing it by its number of employees, which produced the average value of production per employee. After using this logarithm, researchers discovered a difference of one standard deviation, corresponding to 16 percent higher-than-average labor productivity in green companies.
Green certification of various types — such as those pertaining to green building and operations — played a part here, and were believed to boost workplace morale and productivity as a symbolic gesture (though there does not seem to be much analysis present on the healthy building angle, which has been well documented by Brian W. Edwards and others). The researchers also note that green certifications can also be used as a marketing tool and shown off to investors as an indicator of good management practices.