Toyota luxury brand Lexus has been on a global tour of late with its LF concept hybrid. We first saw it at the Detroit Auto Show as the LF-LC 2+2. It next popped up at the more recent Paris Motor Show as the LF-CC. And now it has gone down under, appearing in Australia as the LF-LC Blue.
Unveiled at the Australian International Motor Show in Sydney recently, Lexus describes the LF-LC Blue as the second version of what first debuted in Detroit. It has the Blue moniker due to the "Opal Blue exterior" that is "inspired by the lustrous base colour found in the naturally occurring semi-precious opal stone of outback Australia." Ahh, you gotta love that marketing writing.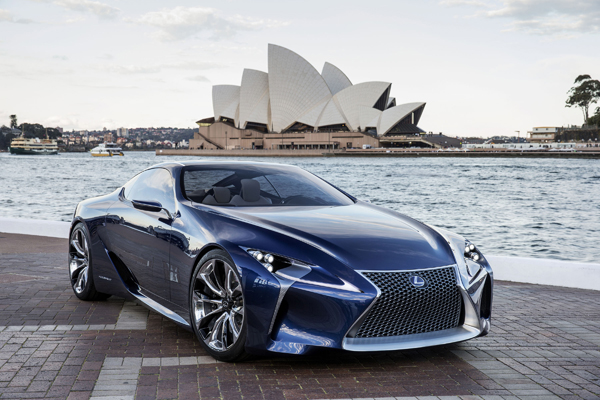 What we really want to know about the LF-LC Blue is what's under the hood as well as in the passenger cabin. As for what drives this vehicle, it is said to have a  powerful and efficient Atkinson cycle combustion engine mated to an advanced high-energy battery pack designed to deliver "greater power from a smaller battery than those currently used in Lexus' range of hybrid vehicles." All total one is looking at a combined petrol/electric hybrid powertrain of 372kW (500hp), which is the most of any Lexus hybrid.
As far as technology goes, the LF-LC Blue incorporates what Lexus describes as a remote touch-screen device that allows the driver to operate controls without shifting position or altering one's line of sight. Two 12.3-inch LCD screens provide information and navigation data, and a touch-screen control board in the center console lets one manipulate things like the audio system, climate controls and navigation. And, as if this wasn't enough information overload already, multi-level meters both analog and digital set directly in front of the driver display data such as temperature, fuel,  tachometer and speedometer.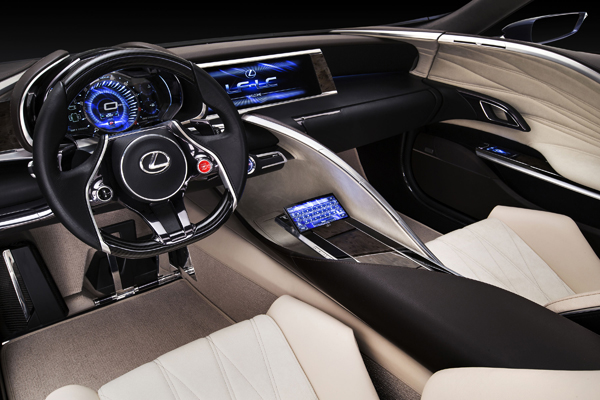 Lexus, in experimenting with ways to make vehicles like this more fuel efficient based upon overall weight, has married carbon fiber and aluminum alloy materials into the body. Design touches include sculpted "L" shaped daytime running lights, vertical fog lamps on front and rear, sculpted air intakes behind the doors and, in perhaps the ultimate wow factor, a wrap-around glass roof that provides a panoramic view to the outside world.
As with other concepts, it is unlikely you'll ever actually see the LF-LC Blue in actual production. Lessons learned from it by Lexus though could find themselves into future hybrid designs.