What do yo do to encourage reading in a neighborhood with a 10 percent illiteracy rate? If you're Princess Laurentien of the Netherlands, you create the eye-catching "advertisement for reading" known as Book Mountain.
Fast Co.Design reports that this massive glass-and-timber, pyramid-shaped library building houses almost 10,000 feet of bookshelves. These shelves were constructed out of recycled flower pots (yes) and ramp upwards in a continuous "mountain" with its apex near the roof. Corridors and platforms bordering all those books may be accessed by a network of stairs, allowing visitors to browse the tiers of shelves at their leisure.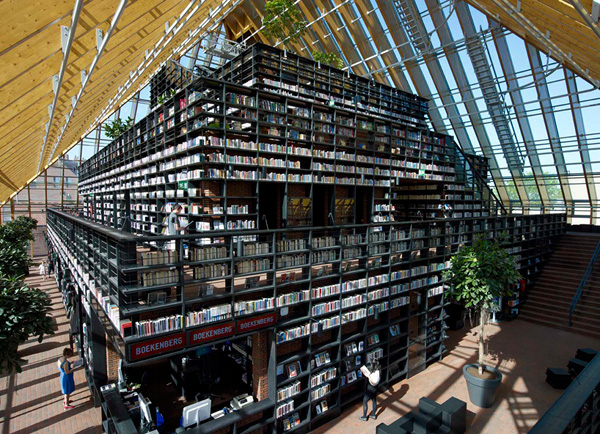 The glass-enclosed structure and pyramidal roof total a surface area of 9,300 square meters (100,104 square feet), and its ramps and stairs comprise a continuous route of 480 meters (1574 feet). So, should visitors happen to feel a bit peckish after their climb up Book Mountain, a cafe at the apex of the structure is there to greet them with sweeping views of the surrounding neighborhood and nearby port through its glass roof.
Affordable housing units flank the building, as does a parking lot and various commercial spaces that form a kind of podium for the library, whose elevation (and the fact that it's lit up at night) affords it the instant status of a local landmark. The entire library quarter development was constructed at a cost of $39 million over the course of nearly a decade.
The public spaces at Book Mountain public eschew air conditioning for natural ventilation, aided by a system of sun-shade devices. The structure is flooded with abundant natural daylighting via its transparent glass roof.
Which begs the question, of course, about sun damage. As anyone who has left a book in the sun too long — say, in a window, before leaving a few weeks for vacation — knows that sunlight can wreck havoc on the inks used on book jackets, as well as on the cloth covers of the books themselves. But, as it turns out, the average shelf-life (so to speak) of a library book totals just four years, rendering the issue somewhat moot.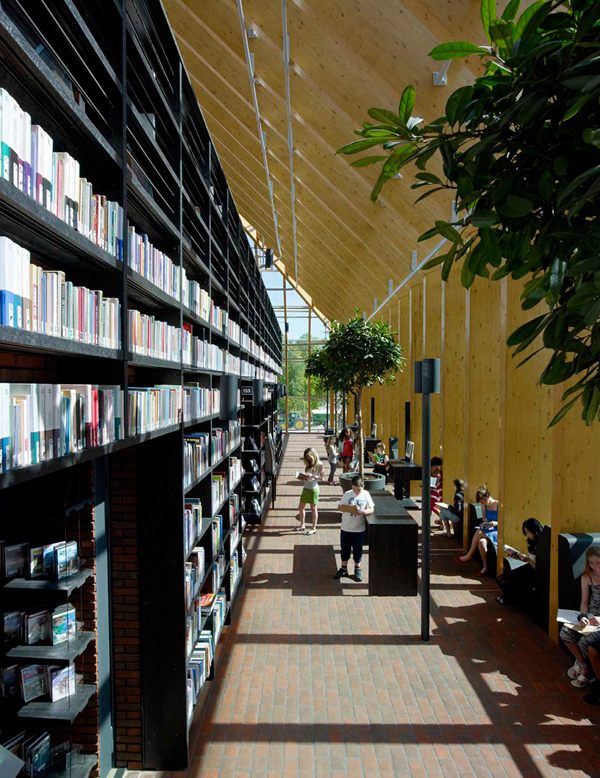 Book Mountain was designed both as an advertisement for and an invitation to read. But it was also designed to be a fun and useful place to visit, even for the community's illiterate population, as it also houses an environmental education center, a chess club, an auditorium, and even retail shops.
Once upon a time, before Spijkenisse became the bustling port city that it is, it was a quiet agrarian community, and the design for the library quarter by MVRDV reflects that. Low-tech sustainability takes precedence over a lot of green bells and whistles, and the "barn-like" shape of the brick buildings that surround the library blend a country aesthetic with an industrial one.