Just in case you haven't heard, there's a big, nasty storm headed for the East Coast of the United States. Meteorologists say three weather systems, one belonging to Hurricane Sandy, a winter storm coming from the West and cold air coming down from Canada will converge around New England on Monday. The convening of this tribunal is likely to hit the mid-Atlantic states with "an intensity that we have not seen in this part of the country in the past century."
If you're one of the 60 million Americans that will be affected by this storm, now's a good time to prepare for extreme cold, wind, and lengthy power outages. If you've got a Prius that can provide back up power to your house, the Frankenstorm probably won't be that big of a deal. If you're not, these five essential green gadgets could help you stay warm, safe, and well informed.
The PowerG 1800 Watt Solar Generator gives you independence that will allow you to run all your essential electrical devices despite whatever power outages or emergencies may occur.
2. Solar-Powered Radio
The Eton Scorpion solar radio is designed to be powered by three sources, two of which are renewable. There's an integrated solar panel to harness solar energy, a crank you can turn to power the internal battery and a DC adapter to use it in remote areas if there is some form of DC power output available.
3. Hand Crank Charger/Kinetic Charger
OK. So if the Frankenstorm is really as bad as they're predicting, it might be a day or two until there's direct sunlight. If you've only got a battery-powered radio or are in danger of losing cell phone power, you'll need something other than solar. Good thing you've still got muscle juice. The SideWinder cell phone charger turns two minutes of vigorous crank time into six minutes of talk time. The K-TOR hand crank generator provides an instant outlet, capable of charging any device.. If you want to stay in shape while hiding out in your root cellar, you might prefer the nPower Peg, a clever human-powered battery that generates energy from your movements.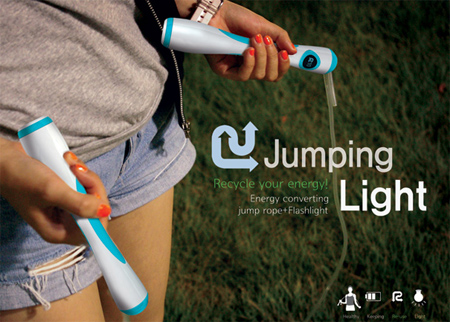 The Jumping Light concept from designers Hyun Joo Lee and Eu Tteum Lee takes a form of chidhood exercise–the jump-rope–and turns it into a kinetic-powered flashlight. Not into jump rope? This LED flashlight has a solar panel on the back that allows the flashlight to be charged in the sun, letting you save the energy for in its built-in lithium battery. And if there's no sun, or you simply don't want to leave your flashlight lying around? No worries, as the flashlight can also be charged by way of a pull-string, which converts kinetic energy into light.
5. Solar Lamp
Sitting in the dark can be boring and depressing. Playing card games or reading a book is much better for passing time during a storm. But you've got to have light. This incredibly simple DIY solar lamp can turn any daylight, even if it's not bright sun, into indoor lighting. Don't want to cut a hole in your roof? This combo solar panel and lantern can be arranged in a window or on a balcony to collect energy.
Green gadgets or not, it pays to be PREPARED. We want you around to read another day! Here's a handy list of last minute tips to prepare for Hurricane Sandy.