There seems to be a bit of a "meh" feeing about hybrids these days. They've been around in their modern incarnation for more than a decade, making them a little tired compared to all the snazzy new all-electrics that offer more curiosity factor and green purity.
But what many hybrids do come with – and Honda is looking to work this to maximum advantage with its latest Insight hybrid – is pretty impressive economy.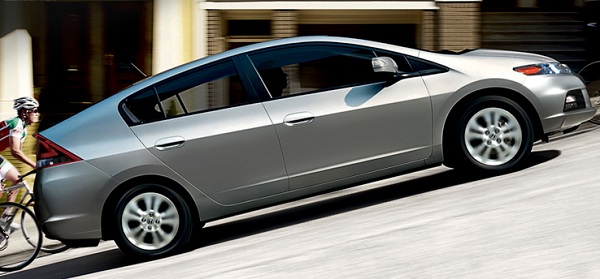 Calling it "the U.S.'s most affordable hybrid," Honda recently introduced the 2013 model of the Insight, boasting of city/highway/combined mpg ratings of 41/44/42 from the government. And, in a world where electrics beyond golf-cart size start well above $20,000 – and sometimes many multiples above that – this hatchback that can at least theoretically ride five starts at $18,500.
Honda noted that the vehicle won a 2012 Total Cost of Ownership Award from Kelley Blue Book.
That said, the Insight is still – as Green Car Reports said in an unenthusiastic review of the 2012 – counting on buyers being pretty set on having a hybrid  in order to choose the Insight over the roomier Fit, which is around $3,000 cheaper.
Honda is offering the 2013 Insight, which went on sale in mid-September, in three models. The cheap – oops, value – base model doesn't come with any bells or whistles more elaborate than a 160-watt audio system, automatic climate control and power windows.
"The Insight LX adds a USB audio interface, cruise control, armrest console, floor mats, security system and steering-wheel mounted audio controls," Honda said, while "the Insight EX adds alloy wheels, six-speaker audio system, heated side mirrors with integrated turn signals, Bluetooth HandsFreeLink, automatic headlights and a leather-wrapped steering wheel."