Editor's Note: EarthTechling will be on the ground, covering all the action at SXSW Eco this year. Check back daily during the first week of October for an up close look, INCLUDING LIVE VIDEO, at this year's best speakers, panels and innovations, and be sure to follow us on Twitter and Facebook.
Environmental activists, political leaders, renewable energy companies and cleantech innovators will converge on Austin, Texas, October 3-5 for the 2nd annual SXSW Eco conference. Thrown by the same company who hosts the multi-week music/film/interactive festival SXSW every spring, this multi-day event employs a cross sector approach to solving the recognized challenges facing the economy, the environment and civil society.
Attendees to last year's inaugural SXSW Eco were treated to three days of feature sessions from experts in the public, private and academic sectors, all addressing pressing issues that cut across demographics and industries. Keynote speakers from the 2011 conference included Alex Steffen of Worldchanging.org, Mark Tercek of the Nature Conservancy, and Philippe Cousteau Jr. The event provided a unique opportunity for regular community members to mingle with the leaders of national organizations who are working to make the world a better place.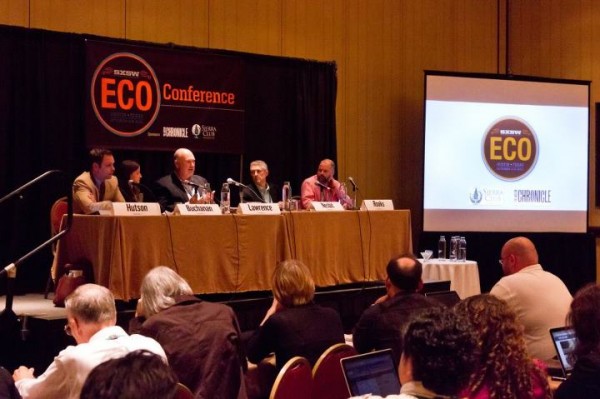 This year, in addition to panel discussions, demonstrations, and keynote speakers like retired U.S. Senator Byron L. Dorgan and Annie Leonard from the Story of Stuff project, the conference includes a Startup Showcase spotlighting some of the best and brightest ideas in cleantech innovation.
Presented by Austin Technology Incubator and Austin Energy, the SXSW Eco Startup Showcase is a one-day venture capital pitch tournament exhibiting the best of cleantech startups from around the country. Fifteen fledgling companies, handpicked by the Startup Showcase Advisory Board, will compete in front of a live audience for the attention of venture investors, potential clients, and the Startup Showcase judges.
Attendees will get a sneak peek at the most innovative new technologies while also getting an inside look at the often difficult process that brings a great green idea from concept to market. Semifinalists for the Showcase include ActualSun, CEFCO Global Clean Energy, iLumi Solutions, Kiverdi, KleenSpeed Technologies, Nexus eWater, NuMat Technologies, Omni Water Solutions, PlanetReuse, Plovgh, Pvilion, Radiator Labs, Sourcemap, Staxxon, and Zeta Communities. The winner will be announced at a special Awards Reception open to all SXSW Eco registrants directly following the Startup Showcase.
(Of course, being obsessed with green technology and gadgets that help us lead more sustainable lives, the startup showcase is of particular interest to us here at EarthTechling. As part of our live coverage of SXSW Eco, we'll be chatting with many of the Startup Showcase semifinalists to get first hand details about their innovative products and services. Be sure to check back often for our posts!)
Keep reading for more about what to expect from SXSW Eco 2012…
Even if you're not the CEO of one of the companies that will be presenting, there's still plenty of reason to attend SXSW Eco this year. Maybe you're part of a company that's just starting out, and want to make sure your brand always lives up to its green claims. Or maybe you're an executive at a traditional company that's looking for ways to save money and energy by incorporating sustainable operating principles.
If you've got ideas that will make your organization greener, but don't know how to get management to listen to them, this year's session led by Rahul Raj is meant for you. As Director of Sustainability and Merchandising Innovation at Walmart.com, Raj knows first hand what it's like to fight an uphill battle for corporate social responsibility. His session will be a guide for budding "intrapreneurs" in their journey to benefit the world from the inside-out.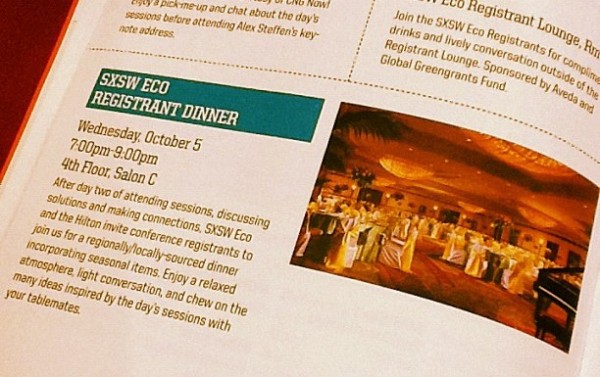 As much as we love new clean technologies, we know that gadgets alone can't stop climate change or reinforce policies meant to protect our natural resources. These important battles can only be waged by individuals that are willing to give their time and talent to educate the public and provide avenues for taking meaningful action.
That's why we're excited to see that SXSW Eco organizers are making it possible for attendees do hands on work in the Austin community. Registrants are encouraged to sign up for "The Green Army" sponsored by AMD. Registered volunteers will help clean and beautify Austin's historic Waller Creek, on the University of Texas at Austin campus, by planting trees, gathering debris, and identifying invasive species. Volunteers will also make "seed-balls" for the Bastrop Lost Pines Recovery Project. The goal is for hundreds of volunteers to beautify Waller Creek through central Austin, all-the-way down to the Colorado River. Later volunteers will meet up for a reception at the EasyTiger overlooking Waller Creek to relax and reflect on a job well done. Voluntary donations collected at the event will benefit the Waller Creek Conservancy.
Remember, even if you can't attend the event in person, EarthTechling will be on the ground, covering all the action! Check back daily during the first week of October for an up close look at this year's best speakers, panels, and innovations and be sure to follow us on Twitter and Facebook.