Peanuts are a great snack. Way better for you than those nachos or foot-long hot dogs sold at most baseball games. At a recent Seattle Mariner game, fans were treated to a free bag of peanuts, but in this instance, the deliciousness of the nut was slightly upstaged by the unique packaging.
The first 10,000 fans that arrived at Safeco Field to see the Mariners take on the Boston Red Sox this past week received a free bag of peanuts in BASF's fully-compostable prototype packaging, developed with its biopolymer technology. Normally, ballpark peanuts come in plastic bags that take thousands of years to degrade in the landfill. Team officials say that if put into commercial production, the bags could drastically reduce their waste stream.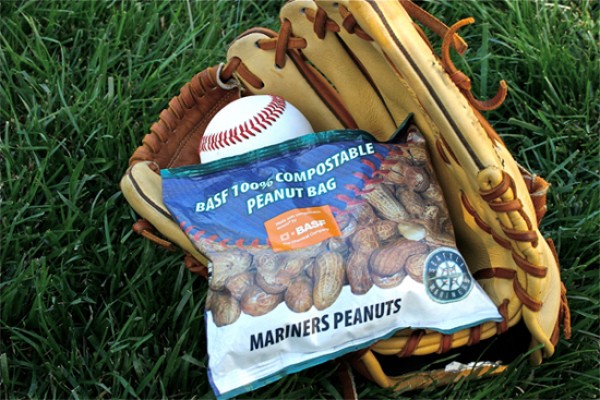 The Seattle Mariners already have a reputation for being one of the most environmentally-friendly teams in Major League Baseball. As a member of the Green Sports Alliance, the team is already on track  to divert 85 percent of their waste from landfills this season, up from just 12 percent in 2006, according to the team.
In addition to helping the team divert more waste from the landfill, the new compostable peanut bag will help save funding and energy as well. "Whenever there are contaminants in our compost stream, like regular snack bags and candy wrappers, we have to pay a premium to have them removed by hand," said Scott Jenkins, Mariners VP of Operations. "If all of the snacks sold at Safeco came in compostable packaging, it would represent a significant savings of time and money for the team and get us a whole lot closer to achieving zero waste."
A zero-waste baseball stadium? Now that's what we call a home run idea.