Utility-scale wind and solar power have run into local opposition in some areas. In others – where farmers and other rural residents have benefited from lease or royalty payments, especially – they love the stuff.
Now, with the deployment of the first commercial wave-power device in the U.S. perhaps just days or weeks away, we're getting some indication of the public's appetite for wave power in their backyard: An Oregon group backing wave power development in the state released a poll that it said shows strong support for projects along the coast.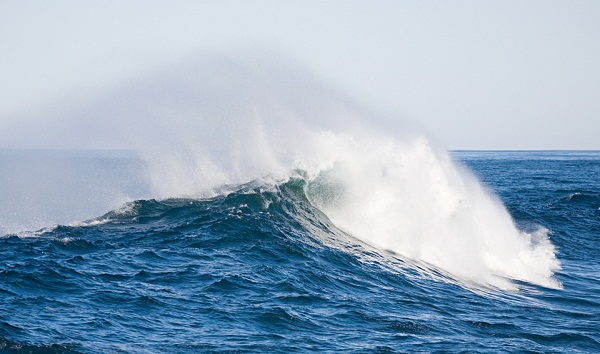 The public-private Oregon Wave Energy Trust said Tuesday a scientific survey of 400 residents in seven coastal counties found that 42 percent of those questioned strongly supported wave energy development and another 36 percent somewhat supported it. Just 5 percent were somewhat opposed, with 6 percent strongly opposed.
Those judgments were given to the polltakers after the interview subjects were read a statement that included the lines: "Ocean energy is abundant, renewable, clean and predictable. Scientists have determined that accessible ocean energy could generate more than ten percent of the nation's energy needs."
The telephone survey, conducted in late June among residents in Clatsop, Coos, Curry, Douglas, Lane, Lincoln and Tillamook counties, has a margin of error of plus or minus 2.9 to 4.9 percent, the firm DHM Research said, depending on how finely the sample is diced.
"Oregon coastal residents recognize the tremendous potential of harnessing the power of their backyard," OWET Executive Director Jason Busch said in a statement.
Among the small number of people opposing energy development, the fear that it might hurt the commercial and sports fishing industries was the most-often cited reasons (37 percent), followed by concern that coastal views might be marred (31 percent).
In August, the Northwest National Marine Renewable Energy Center launched a floating test pod a few miles off the Oregon coast near Newport, and has been using it to test a wave device that originated in New Zeland and then was revamped in Oregon. In early October, Ocean Power Technologies is aiming to deploy at 150-kilowatt "PowerBuoy" farther down the coast, near Reedsport. Although this first buoy won't be grid-connected, OPT has obtained a license to deploy and connect up to 10 such buoys, and hopes to begin making those grid ties in a year or so.
Editor's note: Today and tomorrow, the Oregon Wave Energy Trust hosts the Ocean Renewable Energy Conference in Portland. Look for stories from the conference in the days ahead on EarthTechling.