It drives some people crazy, this auto industry focus on building expensive, powerful, luxury electric vehicles, when what the world really needs is an EV the middle class can afford.
But c'mon, Mercedes-Benz unit isn't the place you'd go looking for an EV solidly under $25,000 (sans subsidy). Something like the gorgeious SLS AMG Coupe Electric Drive – the all-electric version of the SLS AMG gullwing supercar, boasting four synchronous motors that put out 552 kilowatts (740 horsepower) and a maximum torque of 1000 Nm (737 pound-feet) – is more their style, even if it's outlandish.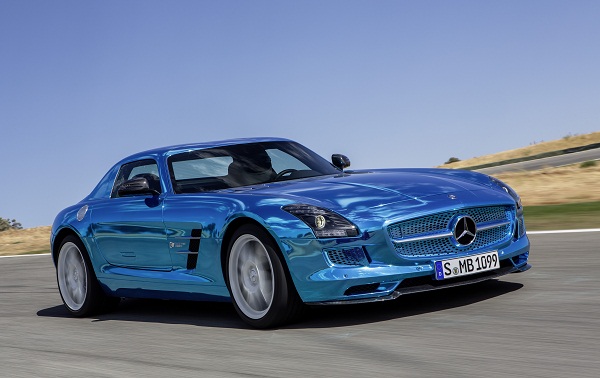 The price: €416,500 in Germany ($535,000).
We had encountered a concept version of this vehicle way back in 2010, when it was called the Mercedes SLS AMG E-Cell.  At Detroit in January 2011, Mercedes revealed a little more about the car, and said it would be available for orders in 2013 – and, indeed, now, at the Paris Motor Show, Mercedes is showing off the production model and saying it "will be celebrating its market launch in 2013."
Mercedes-Benz says it leaned on British Formula 1 experts and their knowledge of KERS hybrid technology. KERS is "kinetic energy recover system," a means of taking advantage of the energy expended in braking. The four compact permanent-magnet synchronous electric motors drive each wheel selectively, Mercedes-Benz says. "This enables the unique distribution of torque to individual wheels, which would normally only be possible with wheel hub motors which have the disadvantage of generating considerable unsprung masses."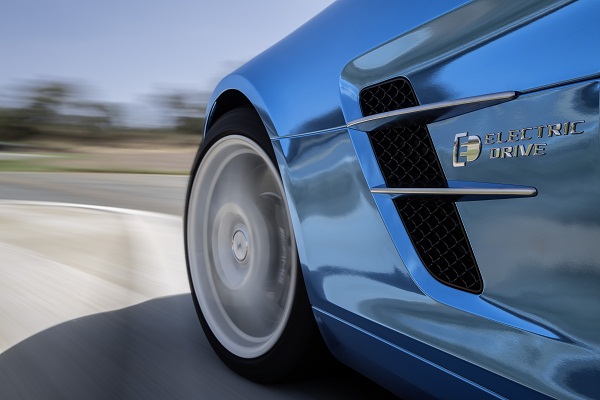 To save on weight, Mercedes-Benz used carbon-fibre reninforced battery monocoque, 30 percent lighter than aluminum.
It all adds up to fast. Zero to 100 km/h (62 mph) is 3.9 seconds and top speed is an electronically controlled 250 km/h (155 mph). A 60 kilowatt-hour battery allows for 250 km (155 miles) of driving range.
There's more gearhead chatter in the press release if you're interested, but what jumped out at us was the focus that went into the sound of the vehicle. Mercedes-Benz says the AMG team created different sounds that interact with the vehicles natural noises to create an aural ambiance in tune with the driving situation.
"Starting with a characteristic start-up sound, which rings out on pressing the 'Power' button on the AMG DRIVE UNIT, the occupants can experience a tailor-made driving sound for each driving situation: incredibly dynamic when accelerating, subdued when cruising and as equally characteristic during recuperation," the company says.
You don't get that for $17,000.