Since Makerbot debuted the Replicator at this year's Consumer Electronics Show, creative people all over the world have been hard at work, expanding the boundaries of 3D printing technology. Although MakerBot's core community are hardcore geeks dedicated to open source technology, the 3D printing revolution has grown to include a wide variety of individuals, from kids to artists to industrial professionals.
MakerBot has always prided itself on listening to feedback from its community, so when user reviews of the Replicator came flooding in after CES, it got to work. The result is the recently unveiled Replicator 2, a machine capable of bigger, badder fabrication without taking up more space.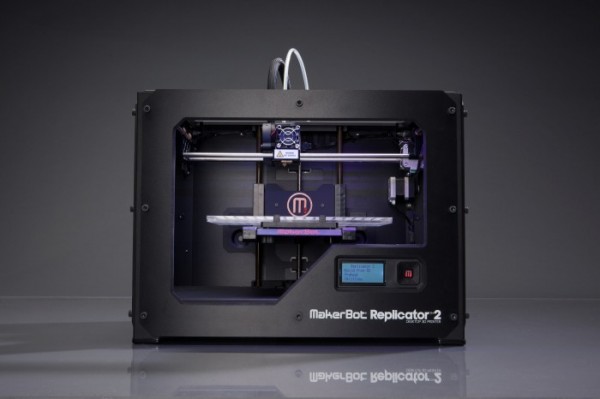 If you've ever wanted to dip your toe into the fantastic world of 3D printing, the MakerBot Replicator 2 makes it easier than ever. Early iterations of this technology had trouble with low resolution layers, resulting in surfaces that weren't smooth or very thin. The Replicator 2 takes care of that by lowering the default layer height all the way down to 100 microns, giving you smooth surfaces without any post-production. The new Replicator also has a build volume of 410 cubic inches–37 percent more than the original–so bigger, multi-part projects can be made all at once.
The Replicator 2 is also fully-optimized for MakerBot PLA filament, which is derived from corn instead of petroleum. (This is good news since a big complaint against 3D printing has been the proliferation of more toxic plastic waste). According to MakerBot, the PLA (polylactic acid) has no odor, sticks without sliding, and looks great.
And in the interests of attracting more amateur 3D printing designers, the company also debuted MakerWare, an in-house designed software program that makes it easier than ever to start creating.
http://www.youtube.com/watch?v=3o6pcbhylmQ