Generally speaking, the more remote the location, the more expensive it is to build there — and Joshua Tree, Calif., is very remote indeed. But Tim Disney and family were able to build their green dream home here for around $270,000 by linking two modular prefab units from Blu Homes.
Disney is both the great-nephew of the famous cartoonist Walt Disney and a board member and investor in Blu Homes. In the interests of promoting the greenfab company behind his new residence, the new Disney home in Joshua Tree will be open for tours this weekend, September 15-16.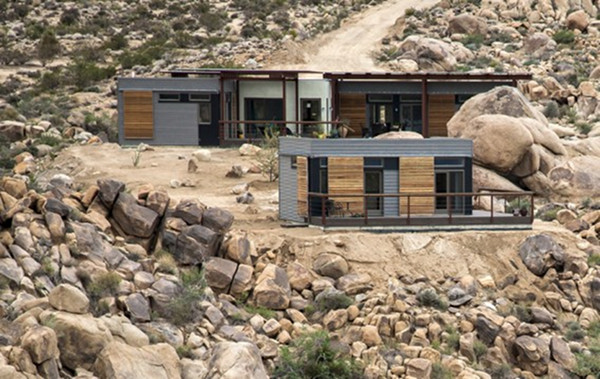 According to Jetson Green, the two Origin units — as well as and a separate guest unit — were built in Vallejo and assembled in the course of a single day at the homesite. Origin is billed as the most versatile of Blu's offerings, and can function either as a standalone small home or in combination with another unit. Like all of Bu's homes, this one was built to LEED standards using energy-efficient appliances and eco-friendly materials (such as sustainably grown/reclaimed wood and recycled steel). It is sited for optimum passive solar orientation.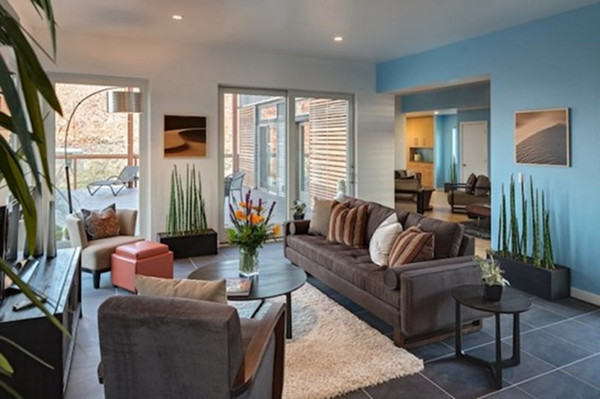 Average energy savings with a steel-framed, prefab Blu Home versus a traditional "stick built" home can reach as high as 70 percent, depending on dimensions and configuration. The fact that these home are built in a factory — and therefore within a controlled environment — has also helped Blu achieve an impressive zero-landfill status for both of its construction plant. (Blu currently owns two construction plants, one in Vallejo, Calif., and one in Springfield, Mass. — costs associated with the installation of these home depend on site proximity to them.)
Interested in touring the Disney home in Joshua Tree? Tour registration is available online.